Please note: This trial has finished recruiting and is not accepting new participants.
Research Center: St. Michael's Hospital
Location: 61 Queen St E, Toronto
Lead Doctor: Dr John L Sievenpiper
Ethics Committee: This study has been reviewed by the Unity Health Toronto Research Ethics Board
Background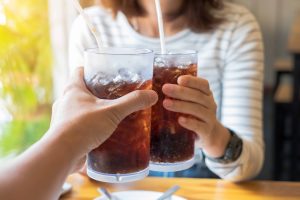 Researchers at St. Michael's Hospital are investigating the effects of swapping full-sugar soda pop with water or diet pop on blood sugar, insulin levels, and gut bacteria.
This study will contribute to knowledge that will inform dietary guidelines and public policy on the best possible replacement for full-sugar soda pop.
This study seeks 18- to 75-year-old participants who are healthy, overweight, and drink at least one full-sugar soda pop a day. Participants are required to attend 6 study visits. All visits will take place at the research site over 6 months.
Why Participate?
You will be compensated $495 for participating in this study
Your Rights
If you decide to participate in the study and later feel you no longer wish to be part of it, you may withdraw at any time.

Your records relating to this study and any other information received will be kept strictly confidential, except as required by the law.
Who Can Participate?
Healthy men and women aged 18 – 75 who:

Are overweight

Drink one full-sugar soda pop per day

Are non-smokers

Have a family doctor

Are able to attend

6

study visits at the research site over approximately

6

months