Please note: This trial has finished recruiting and is not accepting new participants.
Research Center: Crossroads Clinical Research
Location: 2307 N Laurent St, Victoria, TX 77901, United States
Lead Researcher: Richard H. Leggett, D.O.
IRB: This study has been reviewed and approved by the Advarra Institutional Review Board
About the Study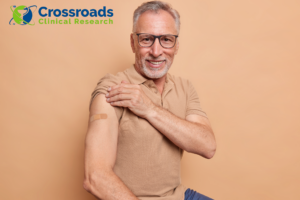 A vaccine works by making your body prepared to fight off infections if you come into contact with it.
Researchers at Crossroads Clinical are doing a study open to healthy volunteers aged 50 and up. In this study, a booster of the Moderna COVID-19 vaccine will be given with a pneumococcal vaccine. This study seeks to learn if these vaccines are helpful as preventative measures.
If this seems like a research study that you're interested in, read on!
Why Participate?
Participants will get a booster of Moderna COVID-19 and an approved pneumococcal vaccine at no cost.
Participants may potentially protect themselves against certain diseases.
Participants may be contributing valuable information to the study that may benefit others in the future.
Participants will be provided the study-related vaccines and procedures at no cost to them or their insurance.
Participants may receive reimbursement for each study to cover the costs of travel and study-related expenses.
Participants may be helping to advance medical research.
Your Rights
If you decide to participate in the study and later feel that you no longer wish to be part of it, you can withdraw at any time.
Any information you provide will be kept strictly confidential, except as required by law.
Qualified health professionals will monitor your health as it relates to the study.
Who Can Participate?
Men and women aged 50 years old or older
Must be generally healthy
Must have gotten 2 doses of Moderna COVID-19 and the last dose was given more than 6 months ago
Must be willing to provide medical records or documents
Must not have a current or known history of COVID-19 infection
Must not have had a fever or antibiotic therapy in the last 72 hours
Must not have had a pneumococcal vaccine in the last 5 years
Must not have had any live or non-live vaccine in the last 30 days
Must not have had a COVID-19 booster
Must be able to attend 3 study visits at the research site over approximately 6 months
More Study Details
Participation in this study will involve 3 phone contacts
Participation in this study will involve speaking to the study physician or staff
Participation in this study involves answering health questions.
Participation in this study involves getting a trial shot via injection.
About the Research Center:

Crossroads Clinical Research
Medical research studies can be a great opportunity for people to receive medical services at no cost and to learn more about their medical condition. In most cases, volunteers in medical research studies are compensated for their time and travel commitments in the form of a stipend. At Crossroads Clinical Research Associates, they try to make volunteering a positive experience for every participant.
Please note:
Due to the COVID-19 pandemic, the researchers would like to assure the participants that ensuring their and the study staff's safety is of utmost importance.
Study Location