Research Center: Crossroads Clinical Research
Location: Crossroads Clinical Research, 2700 Citizens Plaza, Suite 100, Victoria, TX, 77901
Lead Researcher: Richard H. Leggett, D.O.
IRB: This study has been reviewed and approved by the Advarra Institutional Review Board
About the Study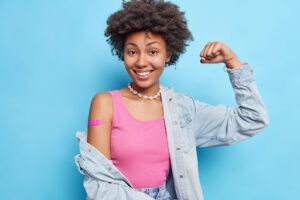 Cytomegalovirus, commonly known as CMV, is the most common viral infection that is passed from mother to child during pregnancy. Fetuses that receive CMV from their mother are born with 'Congenital CMV'. It's unusual for CMV to cause illness in healthy adults. However, this condition causes serious birth defects and can even be fatal for the child. There is no vaccine that prevents CMV, but researchers at Crossroads Clinical Research are hoping to advance research that might change this fact.
This study will help researchers understand if an investigational vaccine for CMV (Cytomegalovirus) will help women of childbearing potential have a better chance of having a healthy baby if they contract CMV during their childbearing years. If you'd like to be part of research that may help more women to have healthy babies, read on for more information.
Why Participate?
Participants will receive an investigational vaccine against CMV infection at no cost.
Participants will be compensated up to $100 for each study visit they attend.
Participants will be helping to advance medical research.
Your Rights
If you decide to participate in the study and later feel that you no longer wish to be part of it, you can withdraw at any time.
Any information that you provide will be kept strictly confidential, except as required by law.
Qualified health professionals will monitor your health as it relates to the study.
Who Can Participate?
Females aged 16-40 years old. For those under the legal age, parental or legal guardian consent is needed to participate
Must be in good health
Must not be currently pregnant
Must be willing to use contraception for the first 9 months of the study.
Must be able to attend 4 study visits at the research site over approximately 6 months, and agree to either home visits or visit the research site for follow-ups for the remaining 24 months. The study runs for 30 months in total.
More Study Details
The study team will explain the research in its entirety but some details are:
The investigational study vaccine does not contain CMV and cannot cause infection. It works by instructing the body to produce proteins that is hoped will encourage the immune system to fight CMV if the person is ever infected. 
The study will occur in three phases: 
Screening visit

Study vaccination phase: participants will receive 3 investigational vaccinations over a period of 7 months. 

Follow-up phase: safety follow-ups and follow-up assessments will be done periodically from months 8-30.
About the Research Center:

Crossroads Clinical Research
Crossroads Clinical Research is a research center based in Victoria, TX. They pride themselves on being part of the search for new, improved medical treatments that may help others. Crossroads Clinical Research believes that medical breakthroughs are not possible without the help of study volunteers and thus try to make volunteering a positive experience for every participant.
Please note:
Due to the COVID-19 pandemic, the researchers would like to assure the participants that ensuring their and the study staff's safety is of utmost importance.
Study Location