Research Center: ACRC Trials
Location: Village Health Partners-8080 Independence Pkwy, Suite 200, Plano, TX 75025
Lead Researcher: Dr Lauren Woolbert
IRB: This study has been reviewed and approved by the Advarra Institutional Review Board
About the Study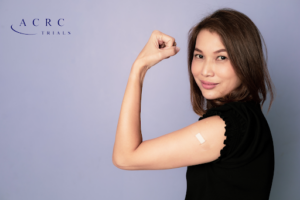 Cytomegalovirus, commonly known as CMV, is the most common viral infection that is passed from mother to child during pregnancy. Fetuses that receive CMV from their mother are born with "congenital CMV'. It's unusual for CMV to cause illness in healthy adults. However, this condition causes serious birth defects and can even be fatal for the child. 
There is no vaccine that prevents CMV, but researchers at ACRC Trials are hoping to advance research that might change this fact. Vaccines aim to safely protect people against infections, and clinical research studies are vital to creating vaccines. This research study can help researchers understand whether this investigational vaccine is safe and effective. The purpose of this study is to evaluate the safety and effectiveness of an investigational vaccine against cytomegalovirus (CMV) infection in women who have not had prior CMV infections.
Reasons to Participate
Participants may receive an investigational vaccine against CMV infection and all study-related expenses at no cost.

Participants will be compensated up to $100 per visit, $25 for safety calls, & $10 for completing diaries through an app at certain times. If a participant cannot complete the study for any reason, they will be paid for each study visit completed. 

Participants will be helping to advance medical research.
Your Rights
If you decide to participate in the study and later feel that you no longer wish to be part of it, you can withdraw at any time.

Any information that you provide will be kept strictly confidential, except as required by law.

Qualified health professionals will monitor your health as it relates to the study.
Who Can Participate?
Women aged 16-40 years old. If below the age of 18, participants must have parental or legal guardian consent to join this study

Must be generally healthy 

(If 20 years old or older) must have or anticipate to have direct exposure to at least 1 child who is 5 years of age or younger 

Must either be on contraception or agree to be on contraception or avoid sexual activity

Must be able to attend study visits at the research site over approximately 30 months
More Study Details
The study team will explain the research in its entirety, but some details are:
This study involves getting an investigational vaccine against CMV or a placebo. A placebo looks like the investigational product but does not have the active components of it.

This study involves a screening visit to determine if the interested participant is best suited for the study.

This study involves completing phone calls and e-diary entries.
About the Research Center:

ACRC TRIALS
ACRC Trials is an investigator site network of award-winning physician practices and clinics, specializing in Phase II-IV pharmaceutical and device studies. With an emphasis on excellence, reliability, and volunteer care, ACRC Trials is committed to upholding the highest standards of quality in implementing clinical research studies and managing volunteer safety.
Please note:
Due to the COVID-19 pandemic, the researchers would like to assure the participants that ensuring their and the study staff's safety is of utmost importance.
Study Location