About the Study
Research Center: University of British Columbia
Location: This is a Canada-wide virtual research study
Lead Researcher: Dr. Ali McManus
IRB Committee: This study has been reviewed and approved by the University of British Columbia's Clinical Research Ethics Board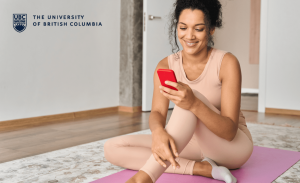 Everybody benefits from exercise, but did you know that those with diabetes may benefit from it the most? Exercise plays a big role in improving diabetes management, lowering blood pressure, and reducing the risk of heart disease. Unfortunately, many people find it hard to be physically active and stick with an exercise routine. 
Research is needed to create new ways that will help people exercise regularly. This study seeks to understand if a technology-based, home exercise intervention is feasible amongst adults with type 2 diabetes. It hopes to understand how exercise impacts continuous blood glucose and how technology impacts exercise adherence. The results of this study could help society become healthier and make exercise programs more accessible.
Why Participate?
Participants will receive a tailored 6-month exercise program designed by an exercise physiologist and

coaching/training/accountability throughout the program

at no cost.

Participants will receive a scale, blood pressure monitor, tape measure, and glucose monitor.

Participants may receive a fitness watch that links to an online training app at no cost. This mobile app will allow an exercise specialist to provide personalized feedback throughout the program. 

Participants may experience improvements in their weight and their diabetes management. This study may also help them follow a consistent exercise regimen. 

Participants will gain knowledge about their type 2 diabetes and how to manage it with exercise. They will also gain a strong understanding of heart rate zones and how to apply them to their own exercise regimens.

Participants will be helping to advance medical research on the effects of exercise on type 2 diabetes.
Your Rights
If you decide to participate in the study and later feel that you no longer wish to be part of it, you can withdraw at any time.

Any information that you provide will be kept strictly confidential, except as required by law.

Qualified health professionals will monitor your health as it relates to the study.
Who can Participate?
Men and women aged 40-75 who are diagnosed with type 2 diabetes

Must be diagnosed with type 2 diabetes within the previous 5-24 months

Must only be managing their diabetes with only Metformin or lifestyle changes (e.g., exercise and diet)

If taking Metformin, must be on a stable dose for at least 3 months

Must have a smartphone and internet access

Must not be performing moderate-intensity exercise for more than 2 hours and 30 minutes weekly

Must be able to complete a 6-month exercise program and complete study activities over approximately 1 year and 1 month
Key Study Details
The study team will explain the research study in its entirety but some details are:
Participants will be asked to complete a 6-month exercise program in the comfort of their own homes. 

Participants will be randomly assigned to two groups. Both groups will receive exercise counseling, but one group will have participants use a mobile fitness app and watch. 

The research team will mail all the necessary equipment for this study. They will provide participants with detailed written instructions on how to do the assessments. 

Participants will be asked to complete 3 health assessments (each taking approximately 1 hour with breaks). Assessments will take place before, immediately after, and 6 months after participants finish the exercise program. 

Health assessments will be completed in the morning after an overnight fast (nothing to eat or drink except water for at least 10 hours).

Health assessments will consist of body composition and blood pressure measurements, blood samples, questionnaires, flash glucose monitoring, and physical activities.

Participants will be asked to complete questionnaires and attend five telephone or Zoom meetings.
About the Research Center
University of British Columbia
The University of British Columbia is a global center for teaching, learning, and research, consistently ranked among the top 20 public universities in the world. UBC embraces innovation and transforms ideas into action. Since 1915, UBC has been opening doors of opportunity for people with the curiosity, drive, and vision to shape a better world.
Please note:
Due to the COVID-19 pandemic, the study will be conducted remotely, which means there will be no in-person visits, allowing you to participate in the comfort of your own home.