Research Center: UTHealth Houston, Center for Neurobehavioral Research on Addiction
Location: 1941 East Rd, Behavioral and Biomedical Sciences Building (BBSB), Houston, TX 77054
Lead Researcher: Luba Yammine, Ph.D. 
IRB: This study has been reviewed and approved by The Committee for Protection of Human Subjects at the UTHealth Houston
About the Study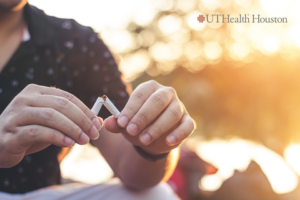 Trying to quit smoking is a great step towards a healthier life! Quitting smoking can make one feel so much better, but there is a possibility of gaining weight after quitting, and this can be quite discouraging.
Researchers at the UTHealth Houston are looking at a potential new treatment that may help people quit smoking as well as prevent post-quit weight gain. The treatment is an FDA-approved medication for diabetes called exenatide, which may help with treating nicotine addiction while maintaining a healthy weight throughout the quitting journey.
Interested in participating in a study to help quit smoking and potentially prevent weight gain? Consider joining this study today.
Why Participate?
Participants will receive the following at no cost to themselves:

Physical Exam

Bloodwork

Nicotine Patches 

Smoking Cessation Counseling 

Participants may experience improvements in their overall health by quitting smoking. 

Participants will be contributing valuable information that may benefit those with nicotine addiction in the future.

Participants will be helping to advance medical research.
Your Rights
If you decide to participate in the study and later feel that you no longer wish to be part of it, you can withdraw at any time.

Any information that you provide will be kept strictly confidential, except as required by law.

Qualified health professionals will monitor your health as it relates to the study.
Who Can Participate?
Men and women ages 18-75 years who currently smoke and want to quit.
Have no history of alcohol or drug abuse in the last 3 months and not currently using marijuana.
Must be overweight (BMI of 25 or greater) and/or have elevated blood sugar (prediabetes).
Must be able to attend 14 weekly visits and two follow-up visits (week 15 and week 26) at the research clinic.
More Study Details
The study team will explain the research in its entirety but some details are:
Participants will come to the research clinic once a week to complete questionnaires and to receive the study medication, nicotine patches for the upcoming week, and individual behavioral counseling.

Participants will be compensated for study participation.
About the Research Center:

UTHealth Houston
As a comprehensive health science university, the mission of UTHealth Houston is to educate health science professionals, discover and translate advances in the biomedical and social sciences, and model the best practices in clinical care and public health. We pursue this mission in order to advance the quality of human life by enhancing the diagnosis, treatment, and prevention of disease and injury, as well as promoting individual health and community well-being.
Please note:
Due to the COVID-19 pandemic, the researchers would like to assure the participants that ensuring their and the study staff's safety is of utmost importance.
Study Location