Research Center: Medical University of South Carolina (MUSC)
Location: 67 President Street, Charleston, SC 29425
Lead Researcher: Xingbao Li, MD
IRB: This study has been reviewed and approved by the MUSC Institutional Review Board
About the Study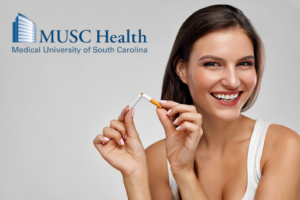 Are you looking for ways to quit smoking? Researchers continue to explore different approaches that could potentially help those who want to quit smoking successfully.
Cigarette smoking is responsible for more than 480,000 deaths per year in the United States, including more than 41,000 deaths resulting from secondhand smoke exposure.
This MUSC research study is interested in gaining further insight into the use of RTMS as a treatment for nicotine addiction. RTMS is repetitive transcranial magnetic stimulation, and it has been found to significantly reduce cravings and cigarette use. RTMS has also been known to double the quit rate among individuals with tobacco-use disorder. So if you want to kick the habit, why not consider signing up for this study!
Why Participate?
Participants will receive a new potential treatment that could help in quitting smoking at no cost.
Participants will be compensated up to $870 for participating in this study. Compensation will only be provided to eligible participants who complete the study.
Participants may experience positive results in attempts to quit smoking.
Participants will be contributing valuable information that may benefit those who smoke and want to quit in the future.
Participants will be helping to advance medical research.
Your Rights
If you decide to participate in the study and later feel that you no longer wish to be part of it, you can withdraw at any time.
Any information that you provide will be kept strictly confidential, except as required by law.
Qualified health professionals will monitor your health as it relates to the study.
Who Can Participate?
Men and women aged between 18 and 65
Must be diagnosed with tobacco use disorder
Must smoke 10 or more cigarettes per day
Must be willing to quit smoking
Must not have received substance abuse treatment within the previous 30 days
Must not have taken any psychoactive substances other than nicotine or caffeine? Examples would be (but are not limited to) cocaine, LSD, and cannabis
Must not have a metal implant in the body. An example would be a pacemaker
Must not use any of the following: nicotine gum, nicotine patch, nicotine spray, nicotine inhaler, nicotine lozenges, Wellbutrin (Zyban), Varenicline (Chantix)
Must not have used other tobacco products? Examples include cigars, cigarillos, hookahs, smokeless tobacco, and electronic cigarettes
Must not have previously had Transcranial Magnetic Stimulation (TMS) Treatment
Must be able to attend 17 study visits at the research site over approximately 8 weeks
More Study Details
The study team will explain the research in its entirety but some details are:
Participation in this study involves getting MRI scans.
Participation in this study involves undergoing TMS (Transcranial magnetic stimulation).
About the Research Center:

Medical University of South Carolina (MUSC)
Founded in 1824 in Charleston, MUSC is home to the oldest medical school in the South as well as the state's only integrated academic health sciences center, with a unique charge to serve the state through education, research, and patient care. Each year, MUSC educates and trains more than 3,000 students and 850 residents and fellows in six colleges: Dental Medicine, Graduate Studies, Health Professions, Medicine, Nursing, and Pharmacy.
Please note:
Due to the COVID-19 pandemic, the researchers would like to assure the participants that ensuring their and the study staff's safety is of utmost importance.
Location