Research Center: Moffitt Cancer Center
Location: Tampa, Florida 33612, USA
Lead Researcher: Dr. Tiffany Carson
IRB Committee: This study has been reviewed and approved by the Institutional Review Board
About the Study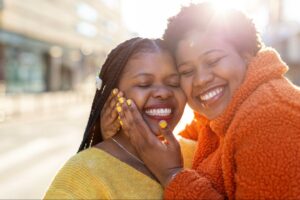 Losing weight can be challenging and stressful for women of all ages. Black women, in particular, are more susceptible to factors associated with obesity and obesity-related diseases and tend to lose less weight when attempting weight loss. Research has shown a relationship between stress levels and weight loss, but not enough data is available on its effects on Black women.
This study aims to assess if stress management paired with an evidence-based behavioral weight loss program can improve weight loss outcomes for Black women with obesity and elevated stress. Given that obesity is a strong risk factor for type 2 diabetes and several types of cancer, effective strategies for weight management are needed to combat this condition. Your participation may help researchers learn about how stress management affects outcomes for women who are attempting weight loss through behavioral lifestyle interventions.
Why Participate?
Participants may be able to join a behavioral weight loss alone program OR a behavioral weight loss-stress management program at no cost.
Participants may experience improvements in their weight and/or stress levels.
Participants will be contributing valuable information that may benefit Black women with high stress levels and weight problems in the future.
Participants will be compensated up to $300 for participating in this study. Compensation will only be provided to eligible participants for each study follow-up visit they complete.
Participants will be helping to advance medical research on stress management and weight loss.
Your Rights
If you decide to participate in the study and later feel that you no longer wish to be part of it, you can withdraw at any time.
Any information that you provide will be kept strictly confidential, except as required by law.
Qualified health professionals will monitor your health as it relates to the study.
Who Can Participate?
Women aged 21-75 who have a BMI of 30 kg/m2 and above (obese)
Must racially identify as black
Must have elevated stress levels
Must be able to attend weekly Zoom sessions over approximately 4 months, bi-weekly for 2 months, and then monthly sessions for 6 months and 4 assessment visits at the research center
More Study Details
The study team will explain the research in its entirety but some details are:
Participants will be randomly placed in a behavioral weight loss alone program OR a behavioral weight loss-stress management program.
Participants will be encouraged to use the MyFitnessPal app to complete dietary records using a smartphone.
Participants will be asked to complete surveys.
Participants will be loaned a FitBit for the study's duration that they will be asked to wear to monitor physical activity.
Participants will be asked to provide blood and saliva samples.
About the Research Center:
Moffitt Cancer Center
As Florida's only National Cancer Institute-designated Comprehensive Cancer Center and one of only 30 leading cancer centers in the U.S. participating in the National Comprehensive Cancer Network, Moffitt is at the very forefront of cancer centers worldwide in pioneering advances like CAR T-cell therapy. Moffitt is committed to the health and safety of its patients. That's why it thinks and acts differently, matching the courage of its patients with the courage to boldly innovate, so it can save more lives by providing the best care today.
Please note:
Due to the COVID-19 pandemic, the researchers would like to assure the participants that ensuring their and the study staff's safety is of utmost importance.
Location