Research Center: East Carolina University
Location 1: 1 Ficklen Drive, Greenville, NC 27858, USA
Location 2: 115 Heart Dr, Greenville, NC 27834, USA
Lead Researcher: Linda May, M.S., Ph.D.
IRB: This study has been reviewed and approved by the ECU University & Medical Center Institutional Review Board
About the Study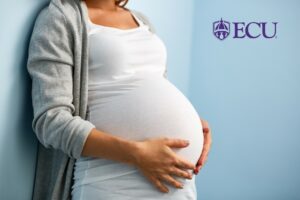 Pregnancy is an important time in every mother's life. Although being active during this time can be pretty tricky due to all of the changes, you also want to do what is best for you and your baby. While many women who struggle with their weight find it difficult to get active during pregnancy, research suggests that activity during pregnancy has several health benefits- for mom and baby!
Researchers at East Carolina University are conducting a study looking at the potential long-term benefits of activity on a pregnant mother's health and their child's health. Researchers are hoping that this work will have a significant impact on reducing obesity and heart disease in children and women.
Interested? Consider joining this study!
Why Participate?
Participants may see improvements in their overall health and the health of their child.
Participants will be contributing valuable information that may benefit pregnant mothers in the future.
Participants will be helping to advance medical research.
Your Rights
If you decide to participate in the study and later feel that you no longer wish to be part of it, then you can withdraw at any time.
Any information that you provide will be kept confidential, except as required by law.
Qualified health professionals will monitor your health as it relates to the study.
Who Can Participate?
Women aged 18-40 who are less than 16 weeks pregnant.
Must be pregnant with only one baby.
Must not currently use any tobacco, alcohol, or drugs.
Must not have been diagnosed with any chronic conditions, such as heart disease, diabetes, HIV/AIDS, lupus, etc.
Must have a pre-pregnancy BMI between 25-45 kg/m²
Must be able to attend 3 study visits per week at the research site until delivery
More Study Details
The study team will explain the research in its entirety but some details are:
The study will last the duration of the pregnancy term and, with the mother's permission, will follow mom's and baby's health up to 12 months after delivery.
The total amount of time the participant will be asked to volunteer for this study is approximately 72 hours over the next 6 months.
Procedures include blood draws, supervised submaximal treadmill test, strength tests, resting metabolic rate, wearing an accelerometer, questionnaires, physical activities, and sampling of the umbilical cord, cord blood, and placenta.
About the Research Center:
East Carolina University
At ECU, we believe it is our responsibility to ensure the health and well-being of the citizens of our region and beyond. This is how we define the greater good and what we collectively seek with our teaching, research, and service.
Please note:
Due to the COVID-19 pandemic, the researchers ensure participants' and the study staff's health and safety is of utmost importance.
Location