About the Study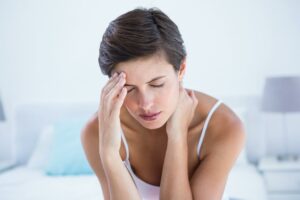 Did you know that approximately 30% of migraine patients have the subtype Migraine with Aura (MA) where some or all migraine attacks are preceded by a so-called aura which can manifest as seeing flashes of light, blind spots in the field of vision, or tingling in the hands or face. These migraine-with-aura episodes can be debilitating, and large-scale studies have shown that three out of four migraine patients are not satisfied with their current treatment. That's why researchers are exploring exciting new approaches – but they need your help.
Researchers are exploring the potential effects that a small and lightweight breathing device that delivers controlled doses of CO2 and oxygen could have if used during the onset of aura symptoms. The study will investigate whether this new device is more effective than a placebo device in reducing headache, nausea, and other migraine symptoms. If you struggle with Migraine with Aura, why not consider signing up for this exciting study?
Why Participate?
Participants will receive a new potential treatment for treating migraines with aura at no cost.
Participants may experience improvements in symptoms associated with episodes of Migraine with Aura.
Participants will be contributing valuable information that may benefit those with migraines in the future.
Participants will be helping to advance medical research.
Your Rights
If you decide to participate in the study and later feel that you no longer wish to be part of it, you can withdraw at any time.
Any information that you provide will be kept strictly confidential, except as required by law.
Qualified health professionals will monitor your health as it relates to the study.
Who Can Participate?
Men and women aged between 18 and 65
Must have Migraine with Typical Aura
Historically, in more than 75% of cases of aura, a moderate or severe headache begins between 10 and 60 minutes after aura onset.
Fewer than 15 headache days per month
Must have had 3 or more Migraine-with-Aura attacks within the last 6 months
If preventive migraine drugs are used, the medication must have been stable for at least 3 months
Must be willing to temporarily refrain from using usual migraine medications until at least 2 hours after study treatment
Must not be planning to start a new or change existing migraine prophylaxis medication
Must have a smartphone compatible with the ePRO study diary app and be willing to download the study app and record the required data using the app
Must not have previously had brain surgery, including stenting
Must not have experienced partial or complete paralysis of part of the body at any point during the last hour before a headache starts
Must be able to attend two study visits at the research site over approximately one year
More Study Details
The study team will explain the research study in its entirety but some details are:
The study has two Stages. In Stage 1, participants use either an active ("real") device or a placebo (non-effective) device. Participants will not be told which device they are assigned to. In Stage 2, all participants use the active device.
If you are interested in participating, you will first be invited to visit the study clinic to find out if you are eligible for the study. At the visit, the study personnel will ask you questions about yourself, your headaches and your health. They will also take a small finger-prick blood sample to test the haemoglobin level in your blood. If you are a woman who is able to become pregnant you will also take a urine pregnancy test.
If you are eligible to participate, you will be given a study kit with five study devices to take home with you, together with instructions for use. A video call will then be scheduled where a study staff member will teach you how to use the study device and the study app.
When an aura starts, you must as soon as possible start breathing through the study device. You should breathe through the device for as long as the aura lasts. During the attack, you will need to enter information about your symptoms in the study smartphone app at regular intervals.
If at all possible, you should wait with using any other migraine medication until at least 2 hours after you started the study treatment.
Participants will be in Stage 1 until four attacks have been treated or until the overall study ends, in which case the study doctor will contact you.
After the completion of Stage 1, you will be asked whether you wish to participate in Stage 2 where you will use the active ("real") study device. Stage 2 lasts either until you have used five active study devices or until 12 months have passed, whichever comes first.
This research study is taking place in several locations. To see if there is a research site near you, please see below.


Research Site: Medstar Health Research Institute
Location: Medstar Health Research Institute (Attn: Noor Matar), 1420 Beverly Road, Suite 300, McLean, VA 22101
Lead Researcher: Jessica Ailani
This study has been reviewed and approved by the Institutional Review Board Advarra.
Location