About the Study
Research Center: Department of Psychiatry, NYU Langone Health 
Location: 1 Park Avenue NY, NY 10016
Lead Researcher: Dr. Charles R. Marmar 
IRB Committee: This study has been reviewed and approved by the NYU Langone Health Institutional Review Board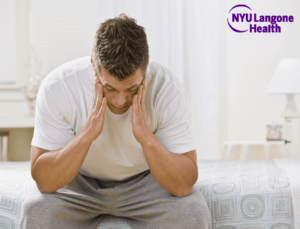 Post-Traumatic Stress Disorder (PTSD) is a difficult mental health condition. Research studies have seen that PTSD can significantly influence psychological and physical health. Studies have found that people with psychological trauma such as PTSD are at greater risk of having long-term physical medical conditions.
Researchers are continuously exploring different methods to help individuals with PTSD cope with symptoms. This research study seeks to determine the effectiveness of a new potential treatment option to reduce symptoms of PTSD. This potential option uses Cannabidiol (CBD). 
Why Participate? 
Participants may get this potential treatment at no cost.

Participants may experience improvements to their PTSD symptoms.

Participants may contribute valuable information that may help others struggling with PTSD in the future. 

Participants will be compensated up to $800 for participating in this study. 

Participants will be helping to advance medical and mental-health research

.
Your Rights
If you decide to participate in the study and later feel that you no longer wish to be part of it, you can withdraw at any time.

Any information that you provide will be kept strictly confidential, except as required by law.

Qualified health professionals will monitor your health as it relates to the study.
Who Can Participate?
Adults aged 18 to 70 years old who have been diagnosed with PTSD.

Must have been experiencing PTSD symptoms for at least 6 months. Symptoms include but are not limited to:

Reliving the traumatic event

Having disturbing dreams about the event

Avoiding situations that remind you of the event

Feeling upset when something reminds you of the event

Feeling jumpy or easily startled

Being unable to relax or let your guard down, even when you are in a safe situation

Must have at least 2 locators. Locators are either a close friend, significant other, family member who usually knows the interested adult's whereabouts.

Must not have any metal implants or a condition that would make having an MRI not possible

Must be willing to abstain from all other cannabinoid/marijuana use while participating in this study

Must have a stable place of residence

Female participants must

be willing to use effective forms of contraception for the study's duration

Female participants must not be pregnant or breastfeeding

Must not have had psychotherapy for PTSD or any other psychiatric related conditions in the past 2 months

Must not have had exposure to trauma in the last 30 days. This includes any trauma experienced during police duty or military service.

Must not have

started any psychotherapy for PTSD or any other psychiatric conditions in the past 2 months

Must not have a history of

any psychiatric disorder with psychotic features, or bipolar disorder type 1

Must not have had

have any allergic reactions to drugs including cannabinoids or sesame oil

Must not have experienced a traumatic brain injury within the past 6 months

Must not have any history of open head injury

Must not currently be an active duty military member

Must have had the COVID-19 vaccine and be willing to show proof of this

Must be willing to able to attend 6 study visits at the research site and 4 phone interviews for over approximately 10-12 weeks
Key Study Details 
Participants will attend remote visits (through video or phone) and in-person visits at the research center's office in midtown Manhattan. 

In person visits will occur within Monday-Friday 8am-6pm for a total of six visits.
About the Research Center
Department of Psychiatry, NYU Langone Health 
The mission of the Department of Psychiatry at NYU Langone Health is to improve the wellbeing of our patients by providing compassionate, evidence-based mental healthcare. We offer a full continuum of services and, in recent years, have achieved national and international recognition for our outstanding quality of care and training.
Please note:
Due to the current situation with the COVID-19 pandemic, the researchers would like to assure the participants that ensuring the safety of the participants as well as the study staff is of utmost importance.
Study Location