Research Center: East Carolina Diabetes and Obesity Institute (ECDOI)
Location: 115 Heart Dr, Greenville, NC 27834, United States
Lead Researcher: P. Darrell Neufer, PhD
IRB: This study has been reviewed and approved by the ECU Institutional Review Board
About the Study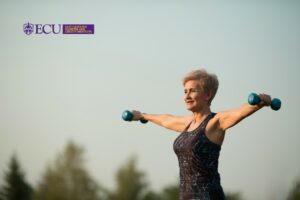 Millions of people in the U.S. take cholesterol medication to help with heart disease and other health problems. These medications, known as statins, are extremely important in heart disease prevention and have helped so many in the past. But what effect do statins have on our bodies? Also, what is the interaction between statins and exercise? 
Researchers at the East Carolina Diabetes and Obesity Institute are conducting a paid study open to healthy adults. This study explores the effect of statins on the body as well as the interactions statins have on our bodies when we exercise. The information learned from this will help better inform medical providers on the impacts of statins on metabolism and how to better prescribe the medication.
Why Participate? 
Participants who are considering an exercise program will have access to information on the impact statins can have on their bodies during exercise. 

Participants will be compensated up to $800 for participating in this study. Compensation will only be provided to eligible participants who complete certain milestones during the study.

Participants will be contributing valuable information that may benefit those who take this medication in the future.

Participants will be helping to advance heart research.
Your Rights
If you decide to participate in the study and later feel that you no longer wish to be part of it, you can withdraw at any time.

Any information that you provide will be kept strictly confidential, except as required by law.

Qualified health professionals will monitor your health as it relates to the study.
Who Can Participate?
Individuals between the ages of 35 and 65 years 

Must live a sedentary lifestyle

Must have a BMI of 25-43 kg/m²

Must not be pregnant

Must not smoke

Must not have been diagnosed with any of the following medical conditions:

CVD

Diabetes

Cancer

HIV

AIDS

Liver or Kidney disease

Must be willing to undergo a muscle sample and have blood drawn

Must be able to attend study visits at the research site over approximately 12 weeks
More Study Details 
The study team will explain the research in its entirety but some details are:
This study will take approximately 79 hours throughout the 12 weeks

5 days per week will consist of supervised exercise sessions

A muscle sample will be required

Blood will be drawn
About the Research Center:
East Carolina Diabetes and Obesity Institute (ECDOI)
The ECDOI is an interdisciplinary research institute jointly supported by the Divisions of Health Sciences and Research & Graduate Studies. The ECDOI is well known for cutting-edge collaborative research in several fields related to disorders of metabolism, including bariatric surgery, muscle insulin signaling/glucose transport, bioenergetics/exercise physiology, and pediatric healthy weight programs.
Please note:
Due to the COVID-19 pandemic, the researchers would like to assure the participants that ensuring their and the study staff's safety is of utmost importance.
Location