Please note: This trial has finished recruiting and is not accepting new participants.
Research Center: Henry Ford Medical Center – Sleep Research Center
Location: This is a virtual study
Lead Doctor: Christopher L. Drake, Ph.D.
IRB Committee: This study has been reviewed and approved by Henry Ford Health System Institutional Review Board IRB #11586
Background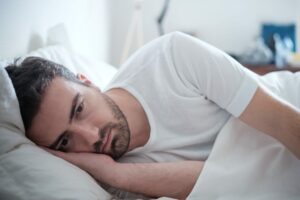 According to the Academy of Sleep Medicine, about 30% of adults have symptoms of insomnia, and around 10% have insomnia that affects their daily life. 
This study is focused on improving the quality of sleep for those with insomnia.  Researchers are exploring different methods of delivering the therapies for insomnia that may help people get better sleep by being able to fall asleep and stay asleep. This potential therapy involves changes to sleep patterns that may improve the participant's ability to fall and stay asleep throughout the night. Researchers are also interested in finding out how sleep and insomnia affect depression and how to prevent the onset of depression that is linked to insomnia symptoms. 
Interested participants must be 18 years of age or older and are experiencing symptoms of insomnia. Participation in this study involves completion of online treatment and 5 online surveys over the next 2 years.
Why Participate? 
You may experience improvements to your insomnia symptoms. 

You may have the opportunity to try a low risk virtual (telehealth) insomnia treatment.

You may contribute valuable information that may help others and help to prevent the onset of depression due to insomnia.

You will be compensated up to $235 ($35 for each survey completion and $30 for each phone interview completion).

You will be helping to advance mental health research.
Your Rights
If you decide to participate in the study and later feel that you no longer wish to be part of it, you may withdraw at any time. You'll be paid for the portion that you completed.

Your records relating to this study and any other information received will be kept strictly confidential, except as required by law.

Qualified health professionals will monitor your health as it relates to the study.
Who Can Participate?
Adults aged 18 years old or older who are experiencing insomnia

Must comply with the following requirements for over approximately 12 weeks:

Must be willing to be either placed in an online CBT-I (Cognitive-Behavioral Therapy for Insomnia) program or an online Sleep Education Program

Both programs involve completing 6 online lessons and filling out a daily sleep diary 

More information about these programs will be provided by the research site 
About The Research Center:

Henry Ford Health System – Sleep Research Center
Henry Ford Health System is a Michigan not-for-profit corporation governed by a 15-member Board of Directors. Their advisory and affiliate boards comprising more than 100 Trustee volunteer leaders provide vital links to the communities they serve. Wright Lassiter III is the president and chief executive officer.
As one of the nation's leading comprehensive, integrated health systems, they provide health insurance and health care delivery, including acute, specialty, primary and preventive care services backed by excellence in research and education. Founded in 1915 by auto pioneer Henry Ford, they are committed to improving the health and well-being of a diverse community.
Sleep Center Research
The Henry Ford Sleep Research Center, founded in 1978, was one of the first sleep disorders centers in the United States and is consistently one of the top sleep research facilities in the nation. Our mission is to pursue new knowledge to improve sleep-wake health through the production, incorporation and dissemination of sleep research.
Sleep Medicine research studies
Henry Ford Health System-sleep research center conducts research on all major sleep disorders, including sleep apnea, narcolepsy and insomnia, and they rank among the top funded centers in the country for the study of normal and abnormal sleep processes. The Sleep Research Center is located in the Clara Ford Pavilion (adjacent to the Henry Ford Hospital Building) and the Columbus location in Novi. Henry Ford Health System takes pride in ensuring each guest's stay is as comfortable and relaxed as possible.
Please note:
Due to the current situation with the COVID-19 pandemic, the study team would like to note the following:
This is a virtual study which means you can participate in the comfort of your own home. 

There will be no in-person visits or clinic appointments in this study.

In this study, there is no need to have close interactions with any person.