About the Study
Research Center: University of Oklahoma Health Sciences Center
Location: 655 Research Pkwy, Suite 400, Oklahoma City, OK 73104, United States-Participants can join this study virtually
Lead Researcher: Thanh Cong Bui, MD, DrPH
IRB Committee: This study has been reviewed and approved by the University of Oklahoma Health Sciences Center Institutional Review Board (IRB#9992)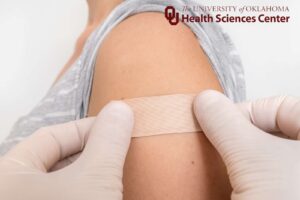 The Human Papillomavirus (HPV) is one of the most common sexually transmitted infections in the United States. According to the Centers for Disease and Prevention (CDC), about 80 million men and women currently have it. Since HPV symptoms can start to show years after the infection, it would cause adverse health problems like HPV-related cancers when left untreated. 
Researchers are creating ways to encourage people to get protected against HPV. This preventative care research study seeks to test the effectiveness of a potential approach that may encourage adults to be more active in receiving protection against HPV. Researchers hope that this research study would help motivate individuals who are at risk of getting the virus to take steps to protect themselves from it.
Why Participate? 
Participants will be contributing valuable information that may benefit individuals at risk of HPV in the future.

Participants will be compensated up to $310 in gift cards for participating in this study. Compensation will only be provided to eligible participants.

This study involves participants referring and encouraging their partners to get HPV preventative care. Each successfully referred

partner

will also get compensation of $30 in gift cards for their participation in this study.  

Participants will be helping to advance medical research.
Your Rights
If you decide to participate in the study and later feel that you no longer wish to be part of it, you can withdraw at any time.

Any information that you provide will be kept strictly confidential, except as required by law.

Qualified health professionals will monitor your health as it relates to the study.
Who Can Participate?
Healthy men and women aged 18-49 who have at least 1 sexual partner who is 45 years old or younger. 

The partner must not have had all 3 shots of the HPV vaccine. 

Must be able to attend (remote or in-person) 2 main study visits and then phone appointments once every 2 weeks over the next 3 months.
Participants will be contacted 5 times in total and these phone appointments will take up to 5 minutes each.

Must be able to complete surveys and questionnaires, and watch videos about referring partners for HPV vaccination.
Participants will be asked to complete a survey about their health behaviors, which will take about 20-30 minutes. 

Participants will be asked to watch a 7-minute video about referring partners for HPV vaccination. 

Participants will be asked to encourage their partners to get HPV preventative care over a 3-month period. 
Key Study Details
This study involves 2 potential approaches to encourage adults to get HPV preventative care:

In the first approach, healthcare providers will give the participants standardized letters to encourage their sexual partners to receive the HPV vaccination.

In the second approach, the research staff will equip the participants with verbal communication skills to motivate their sexual partners to obtain an HPV vaccination.

Participants may choose to join this research study remotely or in-person.
In-person appointments will be held at the TEST Health Promotion Research Center. 

Remote appointments will be held via video call (Amwell, Zoom, etc) or on phone. 

The HPV vaccine used in this study is currently approved by the US Food and Drug Administration.
The participants' and partners' personal information will be kept confidential. Neither their name nor description will be used in any reports or publications about this study. Participants do not need to share their infection status when referring partners for vaccination.
About the Research Center

University of Oklahoma Health Sciences Center
Every day, the University of Oklahoma Health Sciences Center educates more than four thousand students and residents to strengthen their state's healthcare workforce; discovers new treatments for disease; and provides Oklahomans a unique resource for highly skilled, compassionate care across all children's, women's and adult specialties. OUHSC is dedicated to improving the quality of life for those they serve — both today and for future generations. The University of Oklahoma is an equal opportunity institution. 
Please note:
Due to the current situation with the COVID-19 pandemic, the researchers would like to assure the participants that ensuring the safety of the participants as well as the study staff is of utmost importance. Also, due to the COVID-19 situation, appointments for HPV vaccination may not be available in a short period of time.
Study Location