About the Study
Research Center: AZ Good Health Center
Location: This is an in-home study inviting those from the Phoenix/Maricopa County, Arizona area
Lead Researchers: Jonathan Murphy, MD
IRB Committee: This study has been reviewed and approved by the American Neuropathic Research Institute Institutional Review Board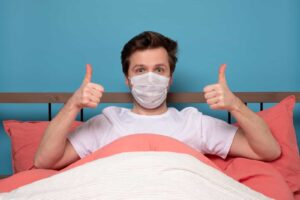 COVID-19 is a highly contagious condition that causes severe problems to the body's lungs and other organs. The World Health Organization declared COVID-19 a pandemic on March 11, 2020, because of how fast the virus was spreading worldwide (WHO, 2020). 
At the present time, there has been no approved medication available to treat COVID-19 (US FDA, 2020) at home. This study seeks to evaluate a variety of approaches to COVID-19 treatment that can be done at home. Specifically, researchers want to determine if over-the-counter (OTC) products are effective for the treatment of COVID-19. Participants will be given over-the-counter products such as Vitamin D3, Vitamin K2, Magnesium glycinate, as well as other over-the-counter products, depending on the treatment group. This study's results may provide safe, effective, and inexpensive treatments for COVID-19 that may benefit society in the future. 
Why Participate? 
Participants will get the study treatment for 7 days, a thermometer and pulse oximeter at no cost. Participants can keep the thermometer and pulse oximeter after the study has ended.

Participants may experience improvements to their COVID-19 symptoms. 

Participants may experience lesser long-term complications caused by COVID-19.

Participants will be given a $50 Amazon Gift Card for participating in this study. This will be delivered after 3 days of treatment and survey completion.

Participants may contribute valuable information that may benefit the community during this pandemic.

Participants will be helping to advance medical and COVID-19 research.
Your Rights
If you decide to participate in the study and later feel that you no longer wish to be part of it, you can withdraw at any time.

Any information that you provide will be kept strictly confidential, except as required by law.

Qualified health professionals will monitor your health as it relates to the study.
Who Can Participate?
Adults aged 20-70 years old who have tested positive for COVID-19 

Must have been experiencing mild symptoms within the last 7 days and do not require hospitalization

Must not have diabetes mellitus
Study Details 
Participation in this study involves taking the study treatments as instructed by the research team. Participants will have the potential treatment (good for 7 days) delivered to their home. 

Participants must complete daily online surveys during the study period. After the study has ended, participants must complete 2 online surveys- one after 14 days and the other after 28 days.  

Participants must be willing to check temperature and oxygen saturation daily for 7 days and record reading results on the study website. 
Please note:
Due to the current situation with the COVID-19 pandemic, the researchers would like to assure the participants that ensuring the safety of the participants as well as the study staff is of utmost importance. This is a virtual study which means you can participate in the comfort of your own home.