Research Center: Sonova USA Inc.
Location: Biometrics lab within the Sonova USA Inc. research and development office, 47257 Fremont Blvd, Fremont, CA 94538
Lead Researcher: Grace Gardner Branson, AuD
IRB: This study has been reviewed and approved by the WCG Institutional Review Board
About the Study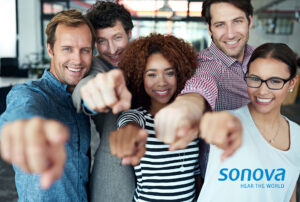 According to the National Institute on Deafness and Other Communication Disorders, at least 15% of US adults have some form of hearing impairment. The likelihood of hearing loss and needing a hearing aid device increases with age. With old age, problems with balance also become more likely, meaning that many people using hearing care technology may be more at risk of falling.
Sonova wants to help people with hearing impairments lead safer lives by developing hearing aids equipped with health data tracking features. This safety feature in hearing aids could help hearing aid users lead more independent lives and give peace of mind to loved ones and caregivers. Scientists need healthy volunteers to safely perform physical demonstrations and help them collect data that will allow the devices to work more effectively.
Potentially help those with hearing loss to lead more full and independent lives, and advance medical research!
Why Participate?
Participants will be compensated up to $30/hour for participating in this study.
Participants will be contributing valuable information that may benefit those with hearing loss and poor balance.
Participants will be helping to advance medical research.
Your Rights
If you decide to participate in the study and later feel that you no longer wish to be part of it, you can withdraw at any time.
Any information that you provide will be kept strictly confidential, except as required by law.
Qualified health professionals will monitor your health as it relates to the study.
Who Can Participate?
Men and women aged 18-65.
Must generally be healthy.
Must be capable of safely performing physical demonstrations for data collection purposes (e.g., stuntmen, athletes, actors, etc.).
Must be able to attend 1-2 study visits at the research site over a total of approximately 6 hours.
More Study Details
The study team will explain the research in its entirety but some details are:
The whole duration of participation will be about 6 hours.
Participants will attend 1-2 study visits at the research site, where they will complete questionnaires, simple procedures, and use hearing instrument prototypes.
Questionnaires will cover background and demographic questions, as well as questions about one's history with regard to health and physical activity.
The study procedures will include safely performing various physical demonstrations.
About the Research Center:

Sonova USA Inc.
Founded in 1947, Sonova is a world leader in innovative hearing technology. The company serves consumers in more than 100 countries around the world, providing a range of hearing care solutions, including personal audio devices, wireless communication systems, audiological care services, hearing aids, and cochlear implants. Sonova is dedicated to developing technology that accounts for growing trends, professional advice, and its users' feedback and needs. In doing so, Sonova hopes to provide those with hearing loss with the opportunity to live life to the fullest.
Please note:
Due to the COVID-19 pandemic, the researchers would like to assure the participants that ensuring their and the study staff's safety is of utmost importance.
Location