Research Center: Sleep and Breathing Specialist Centre
Location: Suite 3.08, Level 3 205 Pacific Highway St Leonards NSW 2065
Lead Researchers: Prof. Peter Cistulli and Dr. Andrew Wignall
HREC: This study has been reviewed and approved by the Bellberry Human Research Ethics Committee
About this First-in-Human Study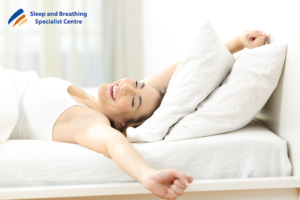 Struggle with sleep apnea and  CPAP? Learn more about a new device being tested for the first time in humans. Obstructive sleep apnea (OSA) is a common problem that can negatively affect your life, affecting productivity and making you excessively sleepy during the daytime.
Researchers seek to study a new treatment for moderate to severe Obstructive Sleep Apnea. This experimental device may someday replace CPAP therapy without noise, daily cleaning, or disruption to sleeping positions. Your participation will help accelerate the progress of this device through its human testing and help provide scientific knowledge about treating this condition. 
Interested? Read on to learn more!
Why Participate?
Participants will try out a new potential treatment for sleep apnea at no cost.
Eligible participants will be compensated up to $1076 for participating in this study. Compensation will cover time and inconvenience.
Participants may experience improvements in their sleep apnea during the one night with the device in place and active.
Participants will be contributing valuable information that may benefit those with sleep apnea in the future.
Participants will be helping to advance medical research on sleep apnea.
Your Rights
If you decide to participate in the study and later feel that you no longer wish to be part of it, you can withdraw at any time.
Any information you provide will be kept strictly confidential, except as required by law.
Qualified health professionals will monitor your health as it relates to the study.
Who Can Participate?
Men and women aged 18 years old and above who are diagnosed with moderate to severe sleep apnea
Must have difficulty accepting or adhering to, or not desiring, CPAP therapy
Must be willing to remove facial hair (if any) between the base of the neck and the jawbone
Must be able to attend 3 office visits and 2 overnight sleep studies over a total time period of 6 to 21 days, depending on scheduling
More Study Details
The study team will explain the research in its entirety but some details are:
Participants will be asked to attend overnight study visits.
Participants will be asked to complete questionnaires.
Participants will be asked to have a tiny Injectable device (same diameter as a rice grain) temporarily injected into their neck by a qualified ENT surgeon before a sleep study and removed via a tether afterward.

The injection is guided by ultrasound imaging. After injection, a wearable device is placed under the neck near the injection site by an adhesive.
About the Research Center:

Sleep and Breathing Specialist Centre
The Sleep and Breathing Specialist Centre is located in St Leonards on Sydney's North Shore, providing specialist clinical services in Respiratory and Sleep Medicine. Comprising a team of Respiratory and Sleep Medicine Physicians and other health professionals, our centre specialises in the diagnosis and treatment of a range of sleep and respiratory disorders for both adults and children.
Please note:
Due to the COVID-19 pandemic, the researchers would like to assure the participants that ensuring their and the study staff's safety is of utmost importance.
Location