Please note: This trial has finished recruiting and is not accepting new participants.
About the Study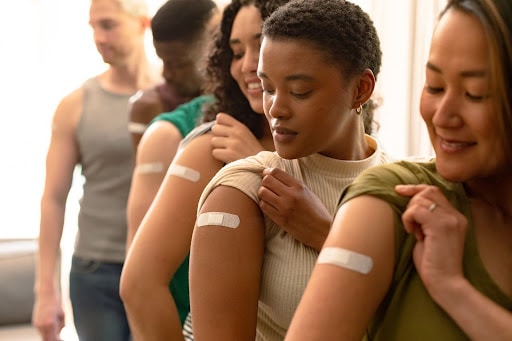 Have you been boosted against COVID-19? While booster vaccines are approved for use in Australia, many unanswered questions remain about the best strategies for vaccine boosting. These questions include how vaccination impacts the immune system, how long immunity lasts, and whether optimal boosting strategies differ depending on age and previous COVID-19 vaccines.
Individuals who are boosted against the virus may be better protected against COVID-19 in the future, which helps lower their risk of hospitalization. Luckily, researchers across multiple sites within Australia are working together to conduct a clinical trial to generate high-quality evidence to inform vaccine practice and policy in the country. The results of this study may help researchers assess how effective current vaccination strategies are against future COVID-19 variants.
If you're interested in joining, you will need to be willing to receive a COVID-19 booster vaccine. Help advance medical research on the importance of COVID-19 vaccines today!
Why Participate? 
Participants will receive a vaccine for COVID-19 at no cost.

Participants may benefit from additional protection against the virus as a result of their booster vaccination. 

Participants will be contributing valuable information that may benefit those who want to be further protected against COVID-19 in the future.

Participants will be helping to advance medical research on COVID-19 vaccines.
Your Rights
If you decide to participate in the study and later feel that you no longer wish to be part of it, you can withdraw at any time.

Any information that you provide will be kept strictly confidential, except as required by law.

Qualified health professionals will monitor your health as it relates to the study.
Who Can Participate?
Individuals aged 18-69 who have received Pfizer for their first 2 doses and have not received more than 1 COVID-19 booster

Individuals aged 70 years old and above who have received Astra Zeneca for their first 2 doses and have had only one COVID-19 booster.

Must be registered on the Australian Immunisation Register (AIR) or be willing to provide evidence of your primary COVID-19 vaccination

Must not have received any COVID-19 vaccine within the preceding 84 days

Must be willing to provide saliva and blood samples

Must be able to attend up to 6 study visits at the research site over approximately 2 years
More Study Details 
The study team will explain the research in its entirety but some details are:
Participants will be randomly assigned to receive either the Pfizer Comirnaty, Moderna SpikeVax, or Novavax Nuvaxovid vaccine.

Participants will be asked to provide saliva and blood samples.

Participants will be asked to complete short 2 to 5-minute surveys via SMS.

Participants will be asked to check and record any reactions including temperature daily for 7 days after they receive the COVID-19 booster. 
This research study is taking place in several locations. To see if there is a research site near you, please see below.
Research Site: Vaccinology and Immunology Research Trials Unit (VIRTU)
Location: University of Adelaide Department of Paediatrics, Zone B, Level 2, Women's and Children's Hospital, 72 King William Rd, North Adelaide SA 5006
Lead Researcher: Professor Helen Marshall

Research Site: Telethon Kids Institute
Location: Northern Entrance, Perth Children's Hospital, 15 Hospital Avenue, Nedlands, Western Australia, 6009
Lead Researcher: Professor Peter Richmond
This study has been reviewed and approved by the Child and Adolescent Health Service Human Research Ethics Committee.