Research Center: Unison Clinical Trials
Location: 4955 Van Nuys Blvd., Suite 200, Sherman Oaks, CA 91403
Lead Researcher: Shahram Jacobs, MD
IRB Committee: This study has been reviewed and approved by the Advarra Institutional Review Board
About the Study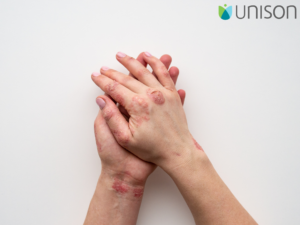 Do you have plaque psoriasis? Psoriasis can cause great discomfort due to severe itching. It can also significantly affect an individual's daily life. Despite currently available treatments, there remains a need for more options.
Researchers are conducting a study that may develop better interventions for plaque psoriasis and they are looking for interested participants. They are looking into the effectiveness of a new potential treatment for plaque psoriasis. In this study, the researchers will also assess whether switching between 2 certain plaque psoriasis treatments will result in a similar overall effect. Both treatments are both marketed and/or approved in many regions around the world as products for treatment of inflammatory disease, including skin psoriasis. Through this research study, there may be more effective treatments available since there are only a few accessible.
Learn if you're eligible and get a potential treatment at no cost!
Why Participate? 
Participants may receive a new potential treatment for plaque psoriasis at no cost.
Participants may experience improvements with their plaque psoriasis symptoms.
Participants will be contributing valuable information that may benefit those with plaque psoriasis in the future.
Participants will be compensated up to $3,450 for participating in this study. Compensation will only be provided to eligible participants who complete the study.
Participants will be helping to advance skin health research.
Your Rights
If you decide to participate in the study and later feel that you no longer wish to be part of it, you can withdraw at any time.

Any information that you provide will be kept strictly confidential, except as required by law.

Qualified health professionals will monitor your health as it relates to the study.
Who Can Participate?
Men and women aged 18-75 years old who are diagnosed with plaque psoriasis for at least 6 months 

Must have moderate to severe plaque psoriasis

Must not have any

significant

changes or flare-ups in the last 2 months

Must be able to attend 23 study visits at the research site over approximately 26 weeks
Key Study Details 
The study team will explain the research study in its entirety but some details are:
Participation in this study will involve getting injections as the study treatment/s are administered via injections.

During your visits to the study center, participants will have some tests/procedures done. These include but are not limited to:

Measurements of body temperature

Blood pressure taken

Taking of breathing rate and pulse

Collection of blood and urine samples

Assessment of psoriasis
About the Research Center

Unison Clinical Trials
Unison Clinical Trials is committed to assessing the safety and effectiveness of the latest drugs, medications, and treatments that promise optimal health outcomes for individuals who are diagnosed with chronic diseases. Unison Clinical Trials strives to create a safe and welcoming environment for their clinical trial participants. In addition to featuring a soothing energy, their high-tech facilities are fully equipped with the latest technology that enables them to monitor their trial participants closely throughout the study, perform all diagnostic tests as necessary and ensure that their health is protected.
Please note:
Due to the COVID-19 pandemic, the researchers would like to assure the participants that ensuring their and the study staff's safety is of utmost importance.
Study Location