Research center: Sonova USA
Location: 47257 Fremont Boulevard, Fremont CA 94538
Lead Researcher: Christopher Ross MS, BS
IRB Committee: This study has been reviewed and approved by the WCG Institutional Review Board
About the Study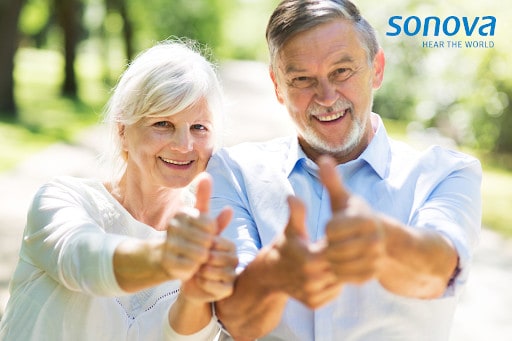 Do you use hearing aids? Hearing aids can be helpful for different kinds of hearing loss. However, there aren't many hearing aids that are equipped with biometric sensors. Because our ears may provide access to even more collectible biometric data, more research needs to be done on the development of such devices. Interested in supporting the cause? Read on to learn more!
Researchers from Sonova International are conducting a study on the development of a hearing aid that's equipped with biometric sensors. The results of this study may benefit hearing-impaired individuals in the future, as having devices fitted with biometric sensors will allow for more inclusion in the progression of wearable technology. This may give these individuals more insight into their health while wearing the devices they are already familiar with.
Why Participate? 
Participants will help with the development of consumer hearing aid devices that measure biometrics, such as heart rate.

Participants will be contributing valuable information that may benefit those with hearing problems in the future.

Participants will be compensated up to $240 for participating in this study. The payment will be $30 per hour with participation being about 2 to 2.5 hours each trial. Compensation will only be provided to eligible participants for each study visit they attend.

Participants will be helping to advance medical research on new hearing technology.
Your Rights
If you decide to participate in the study and later feel that you no longer wish to be part of it, you can withdraw at any time.

Any information that you provide will be kept strictly confidential, except as required by law.

Qualified health professionals will monitor your health as it relates to the study.
Who Can Participate?
Healthy men and women aged 40-85 who are at least 5'3" tall

Must be fully vaccinated against COVID-19

Must be able to walk and jog on a treadmill and sit or perform cycling movements at increasing resistance without discomfort

Must not be smokers

Must be able to attend 2 study visits at the research site over approximately 14 days
Key Study Details 
The study team will explain the research study in its entirety but some study details are:
Study visits will last approximately 2.5 hours each day and will include some light physical activity. This will require participants to travel to the Sonova lab. 

Participants will be asked to wear an electrocardiogram (ECG) on their first study visit. The second study visit will consist of physical activity, ranging from light to moderate intensity. The participants will wear ECG electrodes, and perform Light Activity exercise for the first day.

Participants will be asked to fast 4 hours prior to each study visit. Participants will also be required to abstain from alcohol and caffeine for at least 6 hours prior to each study visit. 

Participants will be asked to abstain from exercising 24 hours prior to each study visit.
About the Research Center:
Sonova USA
Sonova is a group company of Sonova AG/International, with an R&D office located in Fremont, CA. They have headquartered in Stäfa, Switzerland, and is a leading provider of innovative hearing care solutions. The group operates through its core business brands Phonak, Unitron, Hansaton, Advanced Bionics, and AudioNova. They reach their consumers through multiple channels; this diversity lets them benefit from their broad range of solutions – hearing aids, cochlear implants, wireless communication products, eSolutions, and professional audiological care – in the way that best suits their individual needs. Across all businesses, and by supporting the Hear the World Foundation, Sonova pursues its vision of a world where everyone enjoys the delight of hearing and therefore lives a life without limitations.
Please note:
Due to the COVID-19 pandemic, the researchers would like to assure the participants that ensuring their and the study staff's safety is of utmost importance.