Location: This study will be conducted remotely and is open to anyone in the US
Lead Researcher: Stacy D. Sherrod, Ph.D.
IRB: This study has been reviewed and approved by the WCG Institutional Review Board
About the Study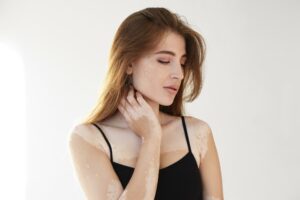 Approximately 1 in 10 Americans will experience a skin condition in their lifetime. Unfortunately, current treatments are not always effective in reducing or soothing symptoms of flare-ups.
Researchers at Finally Skincare would like to change that by studying the molecules on the skin's surface. The molecular content gathered from different individuals will help researchers understand how the skin relates to its overall health, structure, and function. With a better understanding of the skin comes a better understanding of skin conditions and of how to treat them. You could learn more about your own skin while helping others understand theirs. Sign up for this skin study today!
Why Participate?
Participants will be contributing valuable information that may benefit those with Atopic Dermatitis or other skin conditions in the future.
Participants will be helping to advance medical research.
Your Rights
If you decide to participate in the study and later feel that you no longer wish to be part of it, you can withdraw at any time.
Any information you provide will be kept strictly confidential, except as required by law.
Qualified health professionals will monitor your health as it relates to the study.
Who Can Participate?
People 18 years of age or older
Must currently be experiencing atopic dermatitis
Must be open to participating remotely
Must be willing to commit to the study procedures for the duration of the study
More Study Details
The study team will explain the research in its entirety but some details are:
Participants should currently be experiencing atopic dermatitis.
Participants who are able and willing will be asked to self-administer and remove an adhesive strip from their body.
About the Research Center:
Finally Skincare
Finally Skincare is a startup formed from previous and current professors and researchers from Vanderbilt University. Our team collectively possesses 60+ years of research experience including analytical chemistry, diagnostic testing, data science, human subjects research, and clinical research. We specialize in bringing robust science to the dermatological and consumer skincare industry.
Please note:
The study will be conducted remotely, which means there will be no in-person visits, allowing you to participate from the comfort of your own home.