Research Center: University of Kansas Medical Center
Locations: 3901 Rainbow Boulevard, Kansas City, KS 66160; and 4350 Shawnee Mission Parkway, Fairway, KS 66205
Lead Researchers: Russell H. Swerdlow, MD and Debra K. Sullivan, Ph.D., RD
IRB: This study has been reviewed and approved by the University of Kansas Medical Center Human Subjects Committee
About the Study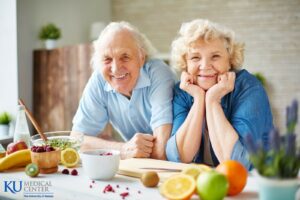 Dealing with Alzheimer's disease can be challenging, but what if a shift in what we eat could help make a difference?
Researchers at the University of Kansas Medical Center are studying whether people with Alzheimer's or mild cognitive impairment can improve their memory and thinking abilities by changing the mix of the foods they eat over a 12-week period.
Researchers are hoping to uncover whether the foods one eats can influence brain function and enhance the quality of life for individuals with Alzheimer's and mild cognitive impairment.
Why Participate?
Participants will be compensated for participating in this study. There is compensation for completing in-person study visits, monthly financial support for groceries, and reimbursement for an overnight hotel stay per study visit for individuals who commute from 1 or more hours away.

Participants will be contributing valuable information that may point to more effective and safe ways to treat Alzheimer's disease.

Participants will be helping to advance medical research.
Your Rights
If you decide to participate in the study and later feel that you no longer wish to be part of it, you can withdraw at any time.

Any information that you provide will be kept strictly confidential, except as required by law.

Qualified health professionals will monitor your health as it relates to the study.
Who Can Participate?
Individuals aged 50 to 90 years with a diagnosis of Alzherimer's Disease or mild cognitive impairment

Must have a study partner

Must be able to speak English

Must not reside in a nursing home or a dementia special care unit

Must not have serious medical risks, including insulin-requiring diabetes, cancer requiring chemotherapy or radiation within the past 2 years, a recent cardiac event or a history of renal stones

Must have a family member, friend, or caregiver that sees you regularly who would be willing/available to answer questions about your functioning during the study visits

Must be able to attend 6 study visits at the research site over approximately 4 months
More Study Details
The study team will explain the research in its entirety but some details are:
Participants will review their medical history, changes in health and their current medications

Participants will be required to have a physical exam and have vital signs collected, have blood collected, take memory and thinking tests, take an MRI scan, and take a urine pregnancy test if needed.

Participants will have education and counseling sessions, discussions about how well they are following their meal plan, and a post-intervention phone call at study completion
About the Research Center:
University of Kansas Medical Center
The University of Kansas Medical Center serves Kansas through excellence in education, research, patient care, and community engagement. The KU Medical Center main campus at the corner of 39th Street and Rainbow Avenue in Kansas City, Kan., consists of the University of Kansas School of Medicine, School of Nursing, and School of Health Professions, as well as The University of Kansas Hospital, which is a separate entity run by The University of Kansas Health System.
Please note:
Due to the COVID-19 pandemic, the researchers would like to assure the participants that ensuring their and the study staff's safety is of utmost importance.
Study Location