Do You Suffer From Chronic Jaw Pain And Have Trouble Sleeping? Join This Research Study
Please note: This trial has finished recruiting and is not accepting new participants.
Research Center:  Johns Hopkins School of Medicine
Location: Johns Hopkins, Bayview Medical Center, 5510 Nathan Shock Drive, Suite 100, Baltimore, MD
Principal Investigators: Drs. Jennifer Haythornthwaite and Michael Smith
Ethics Committee: This study has been reviewed and approved by Johns Hopkins University School of Medicine Institutional Review Board (IRB)  NA_00070364
Researcher Interview
Background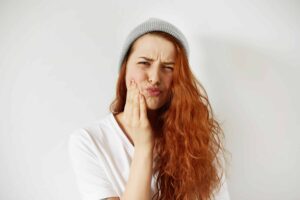 Temporomandibular Joint Disorder (TMJD) or chronic jaw pain is very common and affects more than 3 million Americans, many of whom are women.
The aim of this study is to understand how best to manage chronic pain through behavioral therapy and education. This study involves three treatments where participants will either learn about reducing negative thoughts, learn how to improve their sleep, or learn how to properly manage their jaw pain.
This study seeks women who have chronic jaw pain, trouble sleeping and negative thinking about pain. This study will involve questionnaires and interviews, pain and sensory testing, blood draws and two at-home sleep studies (1 night each). In addition, participants are required to attend 8 study visits at the research site over a period of approximately 3 months and will be compensated up to $650 for participating in this study.   
Benefits to Participation
You will undergo a comprehensive  evaluation for Temporomandibular Joint Disorder (TMJD).

You will receive a comprehensive evaluation of your sleep.

You will be compensated up to $650 for participating in this study.

You will be helping to advance TMJD medical research.
Your Rights
If you decide to participate in the study and later feel that you no longer wish to be part of it, you may withdraw at any time.

Your records relating to this study and any other information received will be kept strictly confidential, except as required by the law.
Who Can Participate?
Women aged 18 – 60 years old who have chronic jaw pain for 3+ months

Have trouble sleeping

Able to attend 8 study visits at the research site over approximately 3  months