Skin Health Research Study Seeks Adults With Moderate to Severe Eczema
Please note: This trial has finished recruiting and is not accepting new participants.
Research Center: Unison Clinical Trials
Location: 4955 Van Nuys Blvd #200, Sherman Oaks, CA 91403, United States
Lead Researcher: Shahram Jacobs, MD
IRB Committee: This study has been reviewed and approved by the Advarra Institutional Review Board
Background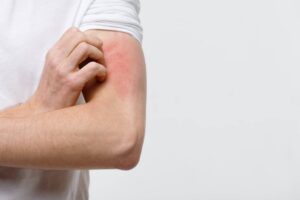 Atopic dermatitis, commonly known as eczema, is an inflammatory skin condition. If your skin is covered in red to brownish patches, is itchy and dry, you may have atopic dermatitis.  Eczema usually happens during childhood but can affect adults. Currently, those with moderate to severe eczema have very few options for effective eczema treatment that does not involve using systemic steroids, which when used for a long time can cause various severe side effects including diabetes and Cushing's disease.
Researchers are continually exploring effective options that may benefit those with skin conditions like atopic dermatitis. This study seeks to investigate the effectiveness of a potential treatment for moderate to severe atopic dermatitis (eczema).  
This study seeks adults aged 18 to 75 years old who have atopic dermatitis. Participants must comply with the necessary study requirements. Compensation will be provided to eligible individuals for their participation in this study to be given at the end of their involvement in this study. 
Why Participate? 
Currently, there is no FDA-approved treatment for moderate to severe eczema that works for everyone. You may receive a potential treatment for eczema, and medical care related to the study at no charge. 

You may experience significant improvements to your eczema signs and symptoms.  

You will be compensated up to $185 per study visit completed for your participation in this study.

.

You will be helping to advance skin health research
Your Rights
If you decide to participate in the study and later feel that you no longer wish to be part of it, you may withdraw at any time.

Your records relating to this study and any other information received will be kept strictly confidential, except as required by law.

Qualified health professionals will monitor your health as it relates to the study.
Who Can Participate?
Adults aged 18 to 75 years old who have been diagnosed with atopic dermatitis (eczema) and experience symptoms for at least a year.

Adults who have found that any eczema treatment they have tried is ineffective.

Participants must be able to attend all the study visits at the research site over approximately 6 months. 

Participants must be willing to apply a bland emollient to the affected areas of their skin, the study team can further provide information on this.

Participants must be willing to comply with study examinations and procedures as well as complete itch diary entries the study team can further elaborate on this. 
About the Research Center:

Unison Clinical Trials
Unison Clinical Trials is committed to assessing the safety and effectiveness of the latest drugs, medications, and treatments that promise optimal health outcomes for individuals who are diagnosed with chronic diseases. In this way, they provide their Los Angeles patients with progressive care that may deliver profound and lasting relief from their conditions. Unison Clinical Trials strives to create a safe and welcoming environment for their clinical trial participants. In addition to featuring a soothing energy, their high-tech facilities are fully equipped with the latest technology that enables them to monitor their trial participants closely throughout the study, perform all diagnostic tests as necessary and ensure that their health is protected.
Please note:
Due to the current situation with the COVID-19 pandemic, the researchers would like to assure the participants that ensuring the safety of the participants as well as the study staff is of utmost importance.