Exploring the Benefits of a Potential Natural Moisturizer for Eczema
Research Center:  Integrative Skin Science and Research
Location: 1495 River Park Drive, Suite 200, Sacramento 95815 , CA
Lead Researcher: Raja Sivamani, MD MS AP
About the Study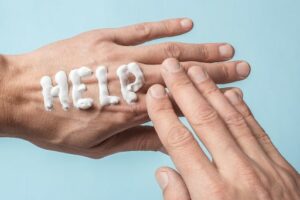 About 3% of adults have some form of eczema. In the United States, there are around 31.6 million Americans who experience symptoms of eczema. People with eczema can experience dry skin that causes severe itching, which can be debilitating. Introducing new and effective treatments for this condition would help millions of people worldwide live their lives more comfortably.
Currently, the most commonly prescribed treatments for eczema are topical steroids. Although effective, they are not entirely sustainable. Further, constant use of these medications causes the skin to thin out over time. Researchers are exploring whether a potential treatment that contains a natural plant-derived ingredient (called isosorbide diesters) may help clear eczema rashes. This potential treatment will be in the form of a moisturizer and applied topically on the body. The study moisturizer may help clear eczema by altering the kind of bacteria on the skin and increasing overall skin hydration.
Why Participate? 
Participants may receive a natural and non-steroid-based topical alternative for their eczema. 

Participants may experience improvements to their eczema symptoms. 

Participants may be contributing valuable information that may benefit others who have eczema in the future.

Participants will be compensated up to $100 for participating in this study. Compensation will only be provided to eligible participants and given upon the completion of each study visit.

Participants will be helping to advance skin disorder-related research.
Your Rights
If you decide to participate in the study and later feel that you no longer wish to be part of it, you can withdraw at any time.

Any information that you provide will be kept strictly confidential, except as required by law.

Qualified health professionals will monitor your health as it relates to the study.
Who Can Participate?
Adults aged 18 years old or older who have been diagnosed with mild to moderate eczema

Must have eczema on other parts of the body than, or in addition to, hands and feet 

Must not have scabies

Must be able to attend 5 study visits at the research site over approximately 6 weeks

Each study visit will take about an hour to complete
Key Study Details 
Participation in this study involves applying the study treatment (a moisturizer) to your skin. 

Participants will be asked to avoid self-tanning, spa tanning, or any artificial tanning.

Participation in this study will be asked to avoid using these medications: cyclosporine, systemic steroids, methotrexate, calcineurin inhibitors, and crisaborole throughout the study period. 
About the Research Center:
Integrative Skin Science and Research
The Integrative Skin Science and Research is an integrative dermatology clinical research site based in Sacramento, CA. Their integrative research approach bridges pharmaceutical, supplement, food, and cosmetic studies with a focus on gut and skin health.
Please note:
Due to the current situation with the COVID-19 pandemic, the researchers would like to assure the participants that ensuring the safety of the participants as well as the study staff is of utmost importance.