Struggle With Sleep Problems On Top of Depression?
Research Center: Sun Valley Research Center, Inc.
Location: 2417 Marshall Avenue Suite 1, Imperial CA 92251
Lead Researcher: Bernardo Ng, M.D.
IRB Committee: This study has been reviewed and approved by the WCG Institutional Review Board
About the Study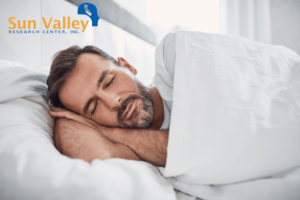 Do you struggle with sleep problems on top of depression? Depression (major depressive disorder) can alter how you feel, think, and act. People with depression can lose enthusiasm in activities they once enjoyed. Their regular routine at work and at home can be significantly interrupted. They can also experience problems with sleep, like insomnia. However, there are current options to help alleviate and treat depression, but they may not work for everyone. 
Research helps doctors and scientists learn if a potential medication or therapy effectively treats a condition, disease, or disorder. This research study seeks to determine the effectiveness of a potential treatment for people who have sleep problems on top of depression. This study medication will be taken as a pill and is meant to be an add-on treatment to a current antidepressant.
Why Participate? 
Participants may receive a new potential add-on treatment at no cost.

Participants may experience improvements to depression symptoms and sleep problems. 

Participants may be contributing valuable information that may benefit others who suffer from depression and sleep problems in the future.

Participants may be helping to advance mental health research.

Participants may  join this study in-person and/or remotely (in the comfort of their own homes). Reimbursement for time and travel may  be provided to eligible participants.

You may be reimbursed $79 for your time and travel for each In-person visit at the research site.  

You may be reimbursed $40 for your time for each remote or at-home visit completed.
Your Rights
If you decide to participate in the study and later feel that you no longer wish to be part of it, you can withdraw at any time.

Any information that you provide will be kept strictly confidential, except as required by law.

Qualified health professionals will monitor your health as it relates to the study.
Who Can Participate?
Men and women aged 18-74 years old who are diagnosed with Major Depressive Disorder (MDD) 

Have difficulty falling asleep or staying asleep, or do not feel rested the next day

Must be taking at least 1 antidepressant and still have symptoms of depression.

Must not have obstructive sleep apnea, restless leg syndrome or parasomnias

Must be able to attend 6 study visits (in-person at the research site or remotely at home) over approximately 12 weeks
Key Study Details 
The study team can explain the research study in its entirety but some study details are:
Participants will need to answer phone calls from the study team

Participants will need to take the study pill daily at bedtime with their current antidepressant/s

Participants will need to fill out medication diary entries
About the Research Center:

Sun Valley Research Center, Inc.
The Sun Valley Family offers culturally appropriate comprehensive mental health services by disseminating excellent quality, confidential and reliable care; cutting edge FDA-approved treatments; advanced technology therapeutics, precision medicine, scientific evidence-based psychotherapy, computer assisted diagnostics, and the opportunity to participate in clinical trials. They have a large Hispanic patient population and they believe in diversity and inclusion in all clinical trials for all therapeutic areas.
Please note:
Due to the current situation with the COVID-19 pandemic, the study team is making the safety of the participants a priority. If a participant is unable to come to the study site, the study can possibly be done remotely through virtual means.