Great advertising pulls it's audience in and doesn't let it go. Playing with emotions, using relatable images, and relying on humor are just some of the techniques marketers use to capture attention and to leave a lasting impression.
Ad delivery through digital media has become the most effective way to connect with potential research participants. Success relies on using the same strategies and tactics as big brand names with large marketing budgets. With a little practice, you can learn to spot and apply these marketing strategies to your ads.
In this post, we highlight some of our favorite ads from Facebook, Instagram, Google, and video to share why they're effective. While there is no one size fits all approach to creating the perfect ad, these examples can serve as inspiration as you consider how to reach your specific audience.
Facebook Advertisements
Facebook is the most accessed social media platform in the world, with 2.5 billion active monthly users. Using it for advertising is a great way to target specific audience demographics based on detailed criteria. With the audience parameters you can set, your ad can be delivered to the right person at the right time.
All ads on Facebook include a visual image along with text that can explain, inform or educate audiences. Striking the right balance and finding what works best requires testing and some trial and error however, we provide an easy to follow tutorial in our guide to Facebook advertising.
When you're planning to use Facebook for advertising make sure that you:
Determine your advertising objectives as this will impact the type of campaign you set up on Facebook Ads Manager.
Define your target audience based on age, gender, location and other demographic parameters. The more specific you can be the better.
Set your advertising budget based on your overall recruitment budget and the length of time you have to recruit. Your budget will determine how many people your ad is shown to each day.
Check that the reach of your advertisement is sufficient. This means analyzing the estimated number of people your ad will be shown to to ensure that it's a large enough group to meet your enrollment goals.
Create your advertisement and get approval from your IRB or ethics committee. Prior approval is essential, so don't forget this important step. You may want to include research participants in this process to ensure your ads are relevant.
Select your ad placement based on your review of how it looks in the Facebook newsfeed, sidebar and on mobile devices. Ask colleagues to review your ads and suggest improvements.
Track your results and modify as needed. Use the data from Facebook Ads Manager to make changes to your campaign as it progresses.
We've included three examples of effective Facebook advertisements below.
Purdue University Diet Study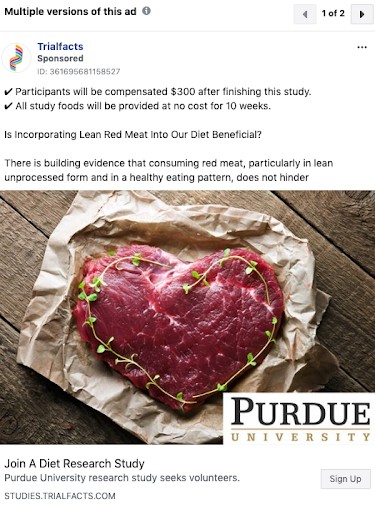 Why this ad is effective: Purdue University chose an unconventional, eye catching image of a heart made of red meat to advertise for their diet research study on Facebook. The use of this unexpected visual element makes audiences curious about what Purdue is up to, and more likely to want to find out more about the study.
UNC Health Care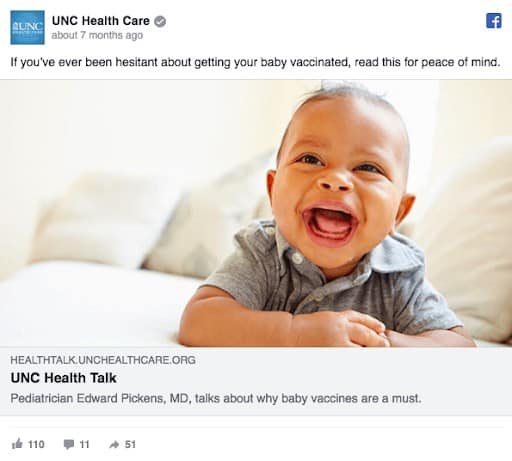 Why this ad is effective: This UNC Health Care ad uses the credibility of the author of the article, Dr. Edward PIckens, to encourage audiences to click and learn more about vaccination. The image of the smiling baby is also attention grabbing and hard to ignore.
Scenic City Health Care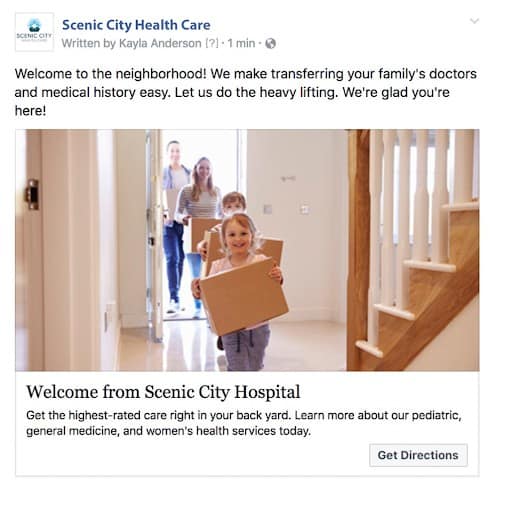 Why this ad is effective: With a welcoming image of a family moving into a new home, this advertisement is targeted at new arrivals to the neighborhood. The text offers a warm welcome and introduces the brand and services they provide. By addressing their target demographic's need for new healthcare providers, this ad makes a lasting impact that's more likely to be remembered.
Instagram Advertising
Instagram is a visual social media platform that is most popular with people under the age of 50, with one billion users every month. Advertisements can either be still images or videos with accompanying text and hashtags. Because of the reliance on visuals to capture the audience's attention, careful consideration should go into design and graphics. Accompanying text is important, but it is secondary to your image selection.
When you're developing advertisements for Instagram consider the following best practices:
Maximize your use of space by selecting an image that has a 1:1 or portrait layout to make sure your image is big enough to capture attention when users are scrolling.
Use inspirational text as opposed to informational content. Many Instagram users use the platform for inspiration and don't want to be directly marketed to.
Showcase the experience, not your study. Use images and text that are a reflection of what your ideal participant might be experiencing right now because of their health issues.
Add personal touches that relate authenticity in the text. Let users know there are real people behind the advertisement by using casual, friendly language.
Research hashtags that are relevant to your study and participant recruitment. This can be done directly in the app using the search function.
Plan to respond to comments and engage with users that show an interest in your advertisement. This can be as simple as responding with an Emoji or sending a direct message to a user that commented on your advertisement.
Share your plan and receive approval from your IRB or ethics review committee before starting any campaigns.
We've included some of our favorite Instagram ads below, and these all incorporate some of the best practices we highlighted.
We've included some of our favorite Instagram ads below, and these all incorporate some of the best practices we highlighted.
PTSD Research Studies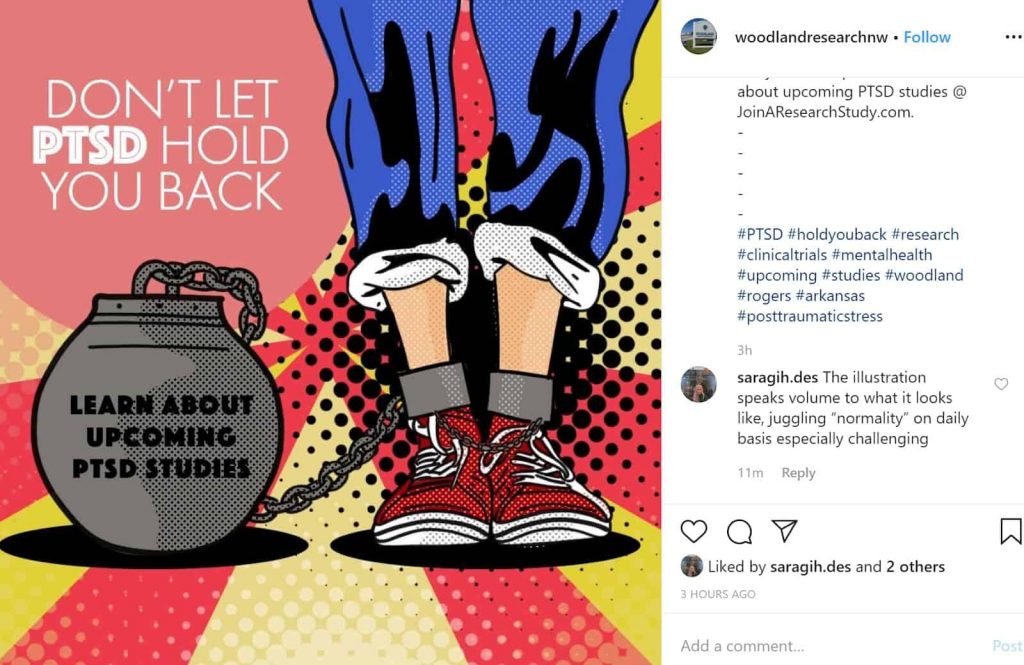 Why this ad is effective: Capitalizing on the well known concept of a ball and chain, this ad addresses the limitations that PTSD can create for participants. Bright colors, a professional illustration and catchy text all combine for an eye catching ad that compels audiences to want to find out more.
National Health Service Patient Safety Campaign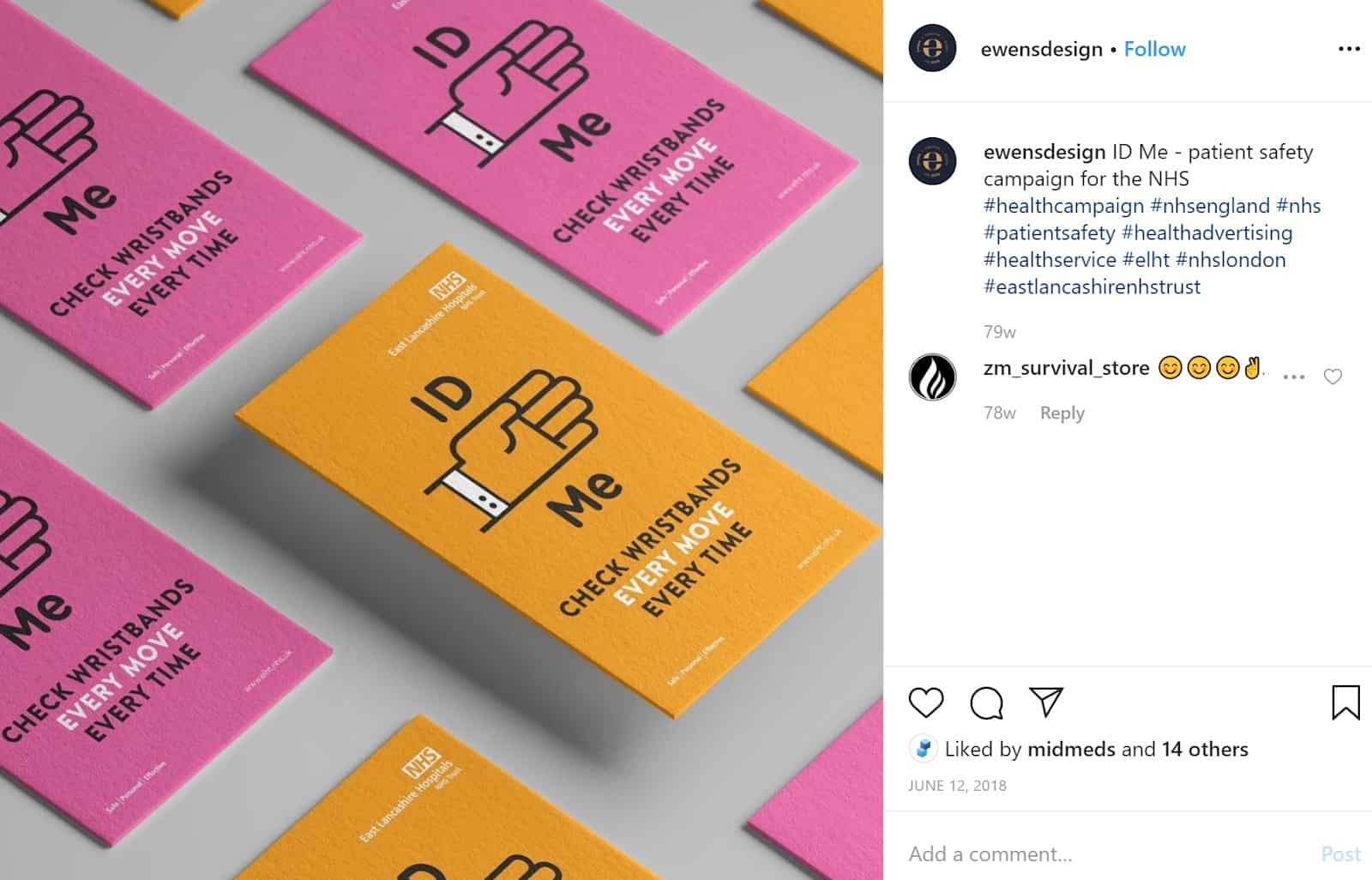 Why this ad is effective: With bright color choices and an icon style image, this patient safety campaign keeps it simple. This ad is effective because of its use of repeating pattern and color, and easy to understand text that tells the target audience exactly what to do – check patient wristbands to confirm their identity.
Obstructive Sleep Apnoea Campaign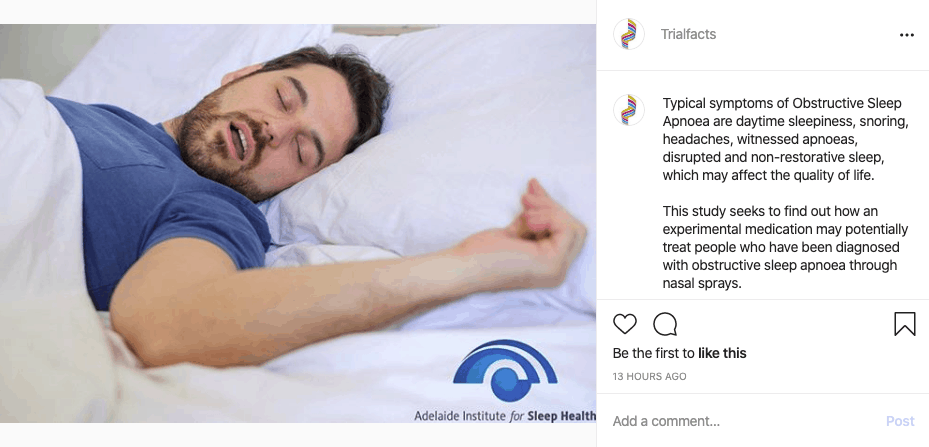 Why this ad is effective: Using visual tension between the man's restless posture and softness of the pillows and comforter, the image makes reference to the difficulties of those that suffer from sleep apnoea to achieve restful sleep. Like the colour contrast of the man's shirt on the white sheets, the inclusion of the logo makes it stand out and attract the viewers eye.
Google Ads Advertising
Using Google Ads for your enrollment campaign is the best way to reach your audience using direct online search tools. Google owns 71% of the search market share and Google campaigns reach 80% of global search users. To be as effective as possible, keywords should be included in the text and repeated throughout the ad. Best practices for using Google Ads include:
Research keywords that are related to your study using the Google Ads Keyword Planner. In doing so you'll understand what words and phrases are actually being used in search queries. You will need to open a Google Ads account in order to access and use this tool.
Consider the goal of your advertisements, and set up an appropriate bid strategy to match. Typically, you'll want to drive more users to your study's website or landing page, so using a cost-per-click or CPC strategy is most useful.
Tightly define your geographic parameters to those around your study site. This will ensure that ads are only shown to potential local qualified participants.
Use all available Ad extensions including site links, callouts, location and message extensions. This will ensure that your ad is shown to the right people at the right time, improving your likelihood of a visit to your website.
Track your conversions using the data from Google Ads. In order to make sure your ads are reaching the right people and your budget is being maximized, routinely look at how well your ads are converting and adjust them as needed.
Submit your advertisements to your IRB or ethics committee for review and approval before you start your campaign.
The examples below use some of these best practices, while also addressing some of the biggest concerns of their target demographic. The result is an effective ad that will capture attention.
Timely Medical Alternatives

Why this ad is effective: This paid Google ad addresses one of the biggest pain points for Canadians in need of knee surgery – wait times. With clear emphasis on how their services allow patients to speed up the process, Timely Medical Alternatives doesn't leave audiences with any questions about what their services are about.
Kid's Weight Loss Study

Why this ad is effective: Google ads have limited space for text, and this ad takes full advantage of what precious space there is. The text immediately catches the audience's attention with a call to improve kid's health through a weight loss study. The perks of the study are featured below the main ad and they encourage the audience to find out more.
Health Coach Institute

Why this ad is effective: Advertisements on Google need to be short and to the point. This advertisement from the Health Coach Institute does just that, and tells audiences exactly what their program offers. Using some of the search terms a potential student may have typed directly in the text, this ad relies heavily on the use of keywords to get it's message across.
Video Advertising
Video advertising continues to gain popularity, and YouTube is often the first video platform that comes to mind.  YouTube is the second most popular search engine worldwide, and it draws around two billion users every month. However, video advertising isn't limited to YouTube because Facebook, Instagram and other social media platforms all support video. In fact, video is quickly outranking other online advertising strategies in terms of effectiveness and user preference.
Regardless of the platform where you're sharing your advertisement, all high-quality videos have the same things in common. When creating video advertisements, consider some of the following best practices:
Define your audience using demographic information including age, gender, ethnicity and location. Use your study's inclusion criteria as inspiration to gather more details that are important for participant enrollment.
Think about what a potential qualified participant is interested in or what type of health issues they're managing. This process will help you decide what kind of content to include in your ad.
Take the time to write a script, choose a location, and consider who you'll cast in your video. Make sure they are relatable to your audience.
Highlight what potential benefits could come as a result of enrollment or how your study could help solve a potential health issue.
Pay attention to lighting, along with sound and video quality. While a video can be made entirely on a SmartPhone, you may want to consider using a real microphone or additional lighting to improve your final product.
Take the time to edit your video and include titles, text and key messages that you want your audience to see. Also include a call to action that describes what you want your audience to do next. For example, you could include text that asks users to visit your study's website for more information.
Keep your video ad short and to the point. The most effective video advertisements are between 30-60 seconds long.
Include your IRB or ethics committee in your planning process. Ensure that you receive approval for your video ads before you start filming.
Take a look at this great examples of effective video advertising where you'll see some of these best practices at work.
Trenia Hill: Amazing Things – New York Presbyterian Hospital
Trenia Hill: Amazing Things – New York Presbyterian Hospital
Why this ad is effective:New York Presbyterian Hospital doesn't waste time with this emotional and attention grabbing video. Trenia Hill shares the story of her pregnancy with triplets and how the hospital supported her every step of the way. The timely use of text descriptions clearly highlight the benefits of the services Trenia received. The result is an effective 30 second ad with a clear call to action.
Conclusion
Effective advertising uses a combination of images and text to connect with its audience. Digital media has expanded the number of advertising platforms available to marketers, and each has its own nuances that shape how ads are created and shared. By using relatable images, creative text and eye catching graphics, you can create your own advertisements that can help you meet your participant enrollment goals.
With over a decade of experience recruiting for hundreds of clinical trials, we have developed expertise in digital marketing that connects participants with studies that are actively recruiting. Schedule a phone call with us today to find out more about how we can help with your enrollment needs.