Use of Apps to Improve Mental Wellbeing And Physical Energy For Young Australians Aged 18-25
Please note: This trial has finished recruiting and is not accepting new participants.
Research Centre: Flinders University
Location: This is an online study.
Lead Researchers: A/Prof Niranjan Bidargaddi
Ethics Committee: Reviewed and approved by the Flinders University Social and Behavioural Research Ethics Committee
Background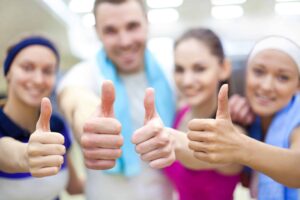 With technology improving at such an astounding rate its ability to positively improve our lives is also increasing. The Online Wellbeing Centre (OWC) is a website designed with and for young people, enabling them to check their wellbeing, track their goals over time and access different wellbeing resources.
The Online Wellbeing Centre (OWC) allows users to monitor their wellbeing and offers them access to resources such as The Toolbox. The Toolbox is a collection of apps which are already commercially available. Users will be prompted to regularly monitor their mood, energy and sleep and will be provided feedback in a meaningful graphic display, making it easier for young people to be aware of their wellbeing and make improvements in all areas of their lives.
One wellbeing resource accessed via the OWC is "The Toolbox: the best apps for your brain and body", a website created by ReachOut.com for young people to access a personalised, ongoing recommendation service of over 50 apps to support their wellbeing and mental health. This library of professionally endorsed and peer reviewed apps is designed to assist with: sleep, relationships, stress, anxiety, depression, health & fitness, quitting smoking, confidence, forming good habits and breaking the bad.
Benefits to Participation
You could experience psychological, emotional and physical improvements.
Your overall wellbeing could improve.
You will have a clearer understanding of your goals.
You could feel more connected and integrated with your friends.
You could see benefits if you're attempting to quit smoking.
You could see improvement in your sleep patterns.
You will be helping to advance medical research.
Your Rights
Your records relating to this study and any other information received will be kept strictly confidential.
You will be able to withdraw from the study at any time.
Who Can Participate?
Australian men and women aged 18-25
Who are interested in improving their wellbeing