Acne? Investigational Treatment May Improve Skin
Please note: This trial has finished recruiting and is not accepting new participants.
Research Center: Burke Pharmaceutical Research
Location: 3633 Central Avenue, Suite 1, Hot Springs, AR, 71913
Lead Doctor: Dowling B. Stough, M.D.
IRB Committee: This study has been reviewed and approved by Aspire Institutional Review Board
Background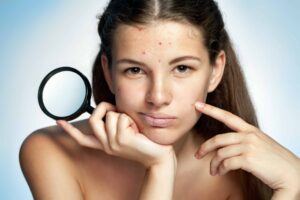 Acne can have lasting emotional and psychological effects, and even cause permanent scarring. Researchers are exploring a potential new option in reducing facial acne.
This research study is testing the safety, efficacy and tolerability of a potential new acne treatment that is in a topical gel form for ages 9 and older.
This study seeks males and females who currently have moderate to severe facial acne. Participants are required to attend 6 study visits at the research site over a 4 month period and will be compensated for participating in this study.
Why Participate?
You may or may not benefit from acne treatment.

You may have your facial acne treated at no cost.

You will be compensated

$75 per visit and $100 for the final visit.

You will be helping to advance medical research.
Your Rights
If you decide to participate in the study and later feel that you no longer wish to be part of it, you may withdraw at any time.

Your records for this study may be reviewed by the study doctor, sponsor/sponsor representatives, IRB or regulatory agencies as it relates to the study. Otherwise your records pertaining to this study will remain strictly confidential and will not be shared outside these parties.

Qualified health professionals will monitor your health as it relates to the study.
Who Can Participate?
Male or female, 9 years of age or older

Generally healthy

Currently has moderate to severe facial acne

Willing to refrain from using facial acne medication for the duration of the trial

Able to attend 6 study visits at the research site over approximately 4 months