Research Study Seeking Smokers Who Want to Quit
Please note: This trial has finished recruiting and is not accepting new participants.
Research Center: Tobacco Research and Intervention Program at Moffitt Cancer Center
Location:  4115 E. Fowler Ave. Tampa, FL 33617
Lead Doctor: Christine Vinci, Ph.D.
IRB Committee: This study has been reviewed and approved by Advarra Institutional Review Board 
Background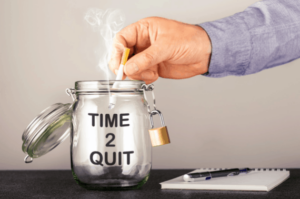 Cigarette smoking results in various negative health consequences. In the United States, smoking is the leading preventable cause of disease and death. Although most smokers claim that they want to quit smoking, only 6% successfully do. Mindfulness  could aid smokers to stop smoking. Mindfulness helps one observe emotions and thoughts, rather than reacting to them.
The purpose of this study is to better understand what happens when someone attempts to quit smoking. The study's researchers will provide participants with nicotine patches at no cost, counseling,  self-help materials, and other study-related treatment to aid in the smoking cessation process.
Interested participants must be at least 18 years old and want to quit smoking. They must be able to attend 5 study visits at the research site during a 6 week period. Participants must also comply with all the study's requirements.
Why Participate? 
You will receive study treatment that has shown to be effective for smoking cessation, nicotine patches, counseling, and other study-related treatment.

You will be helping researchers understand how smokers respond to a quit-smoking study treatment.

You will be compensated for completing all 5 sessions in this study and will have the ability to earn bonus payments as well. 

You will be helping to advance medical research.
Your Rights
If you decide to participate in the study and later feel that you no longer wish to be part of it, you may withdraw at any time with no penalty.

Your records relating to this study and any other information received will be kept strictly confidential, except as required by law.

Qualified health professionals will monitor your health as it relates to the study.
Who Can Participate?
Men and women aged 18 years old and above who smoke cigarettes. 

Able to attend 5 study visits at the research site over approximately 6 weeks.

Must be able to read, speak and write in English. 

Must comply with all the study requirements.
Please note:
Due to the current situation with the COVID-19 pandemic, the study team would like to point out the following:
The research site's waiting area is spacious enough that participants will not be within close proximity to each other.

Hand sanitizers are available at the research site.

The research staff adheres to strict hygienic practices as well as other safety measures to prevent the spread of COVID-19. 

Any staff suspected to have COVID-19, or has come into contact with someone who has COVID-19, will automatically undergo a voluntary quarantine for 14 days.

Interested participants will not be left waiting for a long period of time and will be quickly attended to. 

Parking is available at the research site.

The research site/institution is taking all precautionary measures to ensure the safety of the study participants.