Want to Help Your Child Sleep More and Be Healthier? Join This Virtual Research Study Now!
Research Center: Temple University Center for Obesity Research and Education (CORE)
Location: 3223 North Broad Street, Suite 175, Philadelphia, PA 19140
Lead Doctor: Chantelle Hart, PhD
IRB Committee: This study has been reviewed and approved by the Temple University Institutional Review Board
Background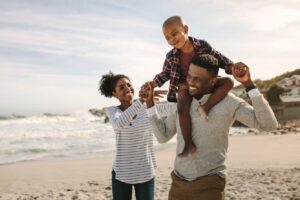 A good night's sleep is associated with healthier eating and being more active. Improving your child's sleep can help enhance their mood and overall health. Developing healthy habits in childhood makes it more likely that children will maintain these healthy habits later in life.
Studies show that a good night's sleep provides a strong foundation for promoting children's health and well-being. Researchers at Temple University are working to determine the benefits of enhancing sleep by comparing whether enhancing sleep alone or sleep plus other habits such as eating and activity behavior can help in the overall health and well-being of children. 
Interested parents can only enroll 1 child between the ages of 6 to 11 years old. This is a 12-month study wherein participation involves a combination of in-person visits, virtual meetings and phone calls.
Why Participate? 
Your family will learn strategies that may improve the overall health and well-being of your child.

Participation in this study will be compensated.

Your child can earn gift cards, toys and/or other incentives for participating in this study.

Your child may experience potential improvements in his/her sleep, overall health and well-being.

Your family will be helping advance pediatric research.
Your Rights
If you and your child decide to participate in the study and later feel that you no longer wish to be part of it, you may withdraw at any time.

Your child's records relating to this study and any other information received will be kept strictly confidential, except as required by the law.

Qualified health professionals will monitor your child's health as it relates to the study.
Who Can Participate?
Children between the ages of 6 and 11 years old.

Please note that all participants are required to have parental/legal guardian consent in order to participate in this study.

Children who sleep on average 9.5 hours or less each night.

Must have a primary caregiver (either the parent or guardian) who is of legal age (18+) and is present during the child's sleep and wake times.

Able to answer 10 phone calls and attend 4 online study visits over 12 months.
Please note:
Due to the current situation with the COVID-19 pandemic, the study team would like to note the following:
The majority of this study can be done from the comfort of your own home.