Volunteers Needed To Advance Vaccine Research
Research Center: DM Clinical Research
Location: 13406 Medical Complex Dr, Tomball, TX 77375, USA
Background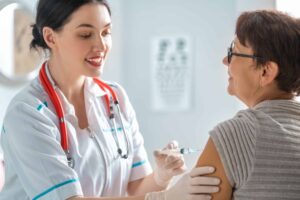 Vaccines can help to provide immunity against certain diseases.
Research studies are evaluating investigational vaccines to advance preventative care.
These studies invite men and women aged 65 and older to participate. Volunteers are required to attend study visits at the research site in Tomball.
Why Participate? 
You will receive an investigational vaccination free of charge

.

You may be reimbursed for time and travel up to $100 per visit

You will be helping to advance medical research.
Your Rights
If you decide to participate in a study and later feel that you no longer wish to be part of it, you may withdraw at any time.

Your records relating to any study and any other information received will be kept strictly confidential, except as required by law.

Qualified health professionals will monitor your health as it relates to a study.
Who Can Participate?
Men and women aged 65 and older

Must be able to perform daily activities with minimal to no assistance needed

Able to attend study visits at the research site