Dietary Research Study Invites Adolescents 13 to 19 Years Old Who Skip Breakfast
Research Center: The University of Texas at Austin
Location: 1400 Barbara Jordan Blvd, Austin, TX 78737
Lead Doctor: Heather J. Leidy, PhD
IRB Committee: This study has been reviewed and approved by the University of Texas at Austin Institutional Review Board (IRB Approval #:  2019-04-0086)
Background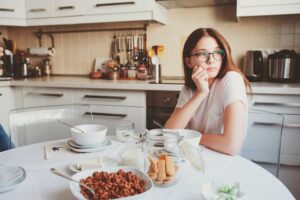 Breakfast skipping is a common eating habit linked to poor diet, unhealthy weight gain, and poor blood sugar control in adolescents. Previous data show that eating a healthy breakfast can improve health-related outcomes.
This study aims to test whether eating different types of breakfast has a significant impact on appetite and health outcomes, such as blood sugar control and body weight management.
Interested participants must be adolescents between the ages of 13 and 19 years old. This study requires parental or legal guardian consent to participate if under the age of 18 years old. Participants must follow all the necessary study requirements for about 6 months. Eligible participants will be compensated for their participation in this study.
Why Participate? 
You  may gain a better understanding of how eating habits impact blood sugar control and body weight management.

You  may learn about your eating habits, sleep patterns, physical activity, and appetite.

You may be provided with breakfast everyday for 6 months at no cost.

You will be compensated for participating in this study.

You will be helping to advance nutrition research in young people.
Your Rights
If you decide to participate in the study and later feel that you no longer wish to be part of it, you may withdraw at any time.

Your records relating to this study and any other information received will be kept strictly confidential, except as required by the law.
Who Can Participate?
Adolescents aged 13 to 19 years old

Please note that parental or legal guardian consent is needed if the  participant is under the age of 18 years old to take part in this study.

Those who frequently skip breakfast

Those who are able to comply with the following study requirements for approximately 6  months:

The study is a combination of remote and clinic visits- clinic visits will be in Austin. Participants must attend all in-person or remote study visits. 

Must follow the study breakfast pattern as instructed by the research team.

Must be willing to communicate through email or text messages with the study research team.