Researchers Explore The Link Between Eating Disorders and Ovarian Hormones
Research Center: University of North Carolina at Chapel Hill
Location: Chapel Hill, North Carolina, United States
Lead Researcher: Jessica Baker, Ph.D.
IRB Committee: This study has been reviewed and approved by the University of North Carolina at Chapel Hill Biomedical Institutional Review Board
About the Study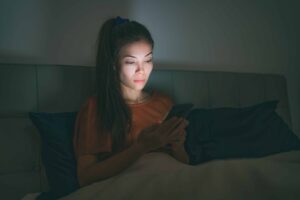 Bulimia nervosa is an eating disorder that is 10 times more common in women than men and affects about 15 million women in the United States. Unfortunately, there has been little focus on the significant health impact of bulimia and what causes it. Due to this inadequate understanding, effective treatment and prevention options are limited. 
Previous research has shown that ovary hormones, such as estrogen and progesterone, may play a role in bulimia. Also, there are specific periods of the menstrual cycle associated with a worsening in eating disorder symptoms. However, it is unclear why or how this occurs. This research study seeks to better understand how and why ovary hormones may play a role in causing bulimia nervosa. To do this, the study participants take commonly prescribed medications that increase and decrease hormone levels while the researchers carefully track their eating behaviors. Through this research study, researchers hope a breakthrough for effective treatment and prevention can be reached.
Why Participate? 
Participants may learn about their body's sensitivity to changes in estrogen and progesterone levels and how their eating behaviors are influenced by these hormones.

Participants may contribute valuable information that may help in the understanding of what causes eating disorders. This, in turn, will greatly benefit those who have or will have bulimia in the future. 

Participants may be compensated up to $900 for participating in this study. Compensation will only be provided to eligible participants who complete the study.

Participants will be helping to advance women's health research.
Your Rights
If you decide to participate in the study and later feel that you no longer wish to be part of it, you can withdraw at any time.

Any information that you provide will be kept strictly confidential, except as required by law.

Qualified health professionals will monitor your health as it relates to the study.
Who Can Participate?
Women who:
Are aged 18 to 42 years old with bulimia nervosa. 

Have a BMI between 18.5 to 35 kg/m2.

Have not skipped a menstrual period in the past  3 months and are not currently pregnant, breastfeeding or planning to become pregnant.

Are willing to use

barrier contraceptives (e.g., condoms)

during their participation in this study. This means participants are  able/willing to not take any prescribed birth control or hormone replacement/supplement

Are willing to take the study prescribed medications as instructed by the study team

Are not taking any psychiatric  medications

Are able to attend 8 study visits for over approximately 4 months. 5 of these study visits will be done at the research center and the other visits will occur remotely.

During the final 3 months of the study, study medications will be taken as instructed by the study team and the study visits will be done 2 times per month for those 3 months. Some of these visits can happen through remote means.

Study visits will last between 45 minutes to 3 hours.
Key Study Details 
Participation in this research study involves: 
Completing online surveys daily

Answering follow-up surveys
If anything you have read makes you feel uncomfortable, please talk to a trusted confidant or provider about what you are feeling and experiencing.
About the Research Center:

University of North Carolina at Chapel Hill
The University of North Carolina at Chapel Hill is the nation's first public university, and is also one of the most beloved and respected universities in the country. Carolina is a global higher-education leader known for innovative teaching, research and public service. 
Please note:
Due to the current situation with the COVID-19 pandemic, the researchers would like to assure the participants that ensuring the safety of the participants as well as the study staff is of utmost importance. As such, we conduct many portions of our study activities remotely, as allowable.