Do You Have Knee Osteoarthritis? New Treatment Patch May Provide Pain Relief
Please note: This trial has finished recruiting and is not accepting new participants.
Research Centre: School of Physiotherapy and Exercise Science, Curtin University
Location: Bentley campus, Kent St, Bentley WA
Lead Researchers: Dr Penny Moss, Prof. Tony Wright
Ethics Committee: This study has been reviewed and approved by Curtin University Human Research Ethics Committee
Researcher interview: 
Background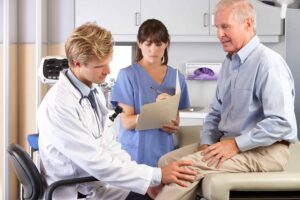 Osteoarthritis (OA) is a chronic joint disease that affects around 8% of Australians. It is commonly found in knees and can cause stiffness and significant pain.
This research study is being conducted to examine the effectiveness of a new pain relief treatment patch for people with osteoarthritis. This patch uses a low level magnetic field to deliver a non-steroidal anti-inflammatory drug (Ibuprofen) into the skin over the knee joint.
This study seeks men and women who currently have knee osteoarthritis. Participants are required to attend 4 study visits (1 hour each) at the research site over a two week period and they will be asked to wear a new treatment patch on their knee(s) for two 48 hour periods.
Benefits to Participation
You may experience some pain relief.
You will help us to evaluate a new form of treatment for osteoarthritis.
You will receive up to $100 for participating in this study.
You will be helping to advance medical research.
Your Rights
If you decide to participate in the study and later feel that you no longer wish to be part of it, you may withdraw at any time.
Your records relating to this study and any other information received will be kept strictly confidential, except as required by the law.
Qualified health professionals will monitor your health as it relates to the study.
Who Can Participate?
Men and women aged 60 years or older
Suffer from knee osteoarthritis (knee OA) for 6 months or longer
Have

not

had surgery or a fracture in their leg in the past 2 years
Are

not

allergic to Ibuprofen
Do

not

have other chronic pain disorders
Able to attend 4 study visits at the research site (Curtin University)