Researchers Inviting Males 18 to 29 Years Old to Join An Online Program Focusing on Sexual Health
Research Center: Northwestern University
Location: This is a online study
Lead Doctor: Brian Mustanski, Ph.D
IRB Committee: This study has been reviewed and approved by Northwestern University Institutional Review Board
Background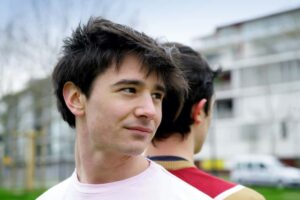 The number of people getting HIV (human immunodeficiency virus) and STIs (sexually transmitted infections) are continuously increasing. It is rising especially among young men who have sex with other men. However, researchers have been focusing on developing interventions that prevent adding to that number.
Keep It Up! (KIU!) is an online program that emphasizes HIV and STI prevention. This eHealth program aims to reduce HIV risk, STI rates, and promote safer sex among diverse young men who who identify as gay or bisexual, are attracted to other males, and/or engage in sexual behavior with other males (young men who have sex with other men or YMSM).  In the past, other KIU! interventions have reduced sexually transmitted infection rates by 40%. Thus this study intends to further test the effectiveness of this online program in preventing sexually transmitted infections among YMSM.
This online study is looking for males aged 18 to 29 years old who have sex with other males. Interested participants must test negative for HIV and comply with all the necessary study requirements.
Why Participate? 
This online program presents methods that aim to prevent the risk of HIV and STIs.

You will have access to educational resources about sexual health. 

You will receive at-home test kits when you join and at the 1 year follow-up at no cost. 

You may help other men in the YMSM community in the future by contributing valuable information.
Your Rights
If you decide to participate in the study and later feel that you no longer wish to be part of it, you may withdraw at any time.

Your records relating to this study and any other information received will be kept strictly confidential, except as required by law (e.g. reporting positive STI results to health departments).
Who Can Participate?
Males aged 18 to 29 years old who have sexual relations with other males.

Able to comply with all the below requirements of the study:

Answer few short online surveys 

Complete 5 online sessions 

Each online session will take about 25 minutes to complete 

Participants will take the first three online sessions 8 hours apart from the other and have  multiple opportunities to win  up to $200 worth of gift cards.

Complete 2 online booster episodes at 3 and 6 months
Please note:
Due to the current situation with the COVID-19 pandemic, the study team would like to inform participants that there is a possibility of experiencing delays in the delivery of HIV/STI test kits.