Reduce Your Risk for Chronic Diseases, Join an Exercise Research Study!
Research Center: Joslin Diabetes Center
Location: 1 Joslin Pl, Boston, MA 02215, United States
Lead Researchers: Laurie J. Goodyear, Ph.D. and Roeland J. Middelbeek, MD
IRB Committee: This study has been reviewed and approved by the Joslin Diabetes Institutional Review Board
About the Study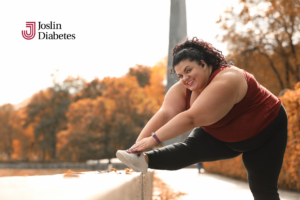 Interested in joining an exercise research study? Exercise plays an important part in living a healthy lifestyle. It improves your health and also reduces your risk for health problems like diabetes and obesity. The more you exercise, the easier it will be to keep your body at a healthy weight and improve your quality of life.
This research study seeks to investigate the benefits of a single bout of exercise and its effects on fat tissue in the abdomen and protein changes in the blood.  It aims to learn about how these effects relate to the beneficial effects of exercise on overall health. The results of this research study may provide a better understanding of the health benefits of exercise training and how it can help in the prevention and treatment of chronic diseases.
Why Participate? 
Participants will be able to attend exercise sessions with Massachusetts researchers at no cost.

Participants may experience improvements in their overall health. 

Participants will be contributing valuable information that may help researchers learn more about the health benefits of exercise.

Participants will be compensated for participating in this study. Compensation will be provided for each study visit participants attend.

Participants will be helping to advance medical research on the health benefits of exercise.
Your Rights
If you decide to participate in the study and later feel that you no longer wish to be part of it, you can withdraw at any time.

Any information that you provide will be kept strictly confidential, except as required by law.

Qualified health professionals will monitor your health as it relates to the study.
Who Can Participate?
Healthy men and women aged 20-60 who have a BMI of 30-40 kg/m

2 

Must

not

be any of the following:

frequently performing moderate to high-intensity exercises for >150 min of moderate-intensity/wk or >75 min of high intensity/wk

unable to exercise

current smoker

Must be able to attend 3 study visits at the research site over approximately 8 weeks
Key Study Details 
The study team will explain the research study in its entirety but some details are:
Participants will be asked to avoid any moderate or high-intensity exercises within 24 hours before or after study visits. 

Study visits 1, 2, and 3 will take approximately 4 hours, 2 hours, and 5 hours respectively. 

Study visits will be separated by at least 3 days each.

Participants will be asked to fast prior to study visits. 

Participants will be asked to attend exercise sessions. 

Participants will be expected to complete all sessions within 8 weeks from the time of the baseline (first) visit.

Participants will be asked to have 2 fat tissue biopsies. 

Participants will be asked to donate a small amount of blood. 
About the Research Center:
Joslin Diabetes Center
Joslin is the largest institution in the world devoted exclusively to diabetes research, care, and education. It is where patients go to learn how to thrive with diabetes, and where experts go to find answers. They are leading the way in diabetes research, care, and education. That's why national healthcare organizations have recognized their work and the quality of care they provide to patients.
Please note:
Due to the COVID-19 pandemic, the researchers would like to assure the participants that ensuring their and the study staff's safety is of utmost importance.