Have you ever wondered about the effects of a high fat diet on physical and psychological well being?
Please note: This trial has finished recruiting and is not accepting new participants.
Research Centre: Australian Catholic University
Location: Daniel Mannix Building, 8-18 Brunswick St Fitzroy, VIC (shown on map)
Lead Doctors: Professor John Hawley, Dr Donny Camera, and Miss Miriam Ellis
Ethics Committee: Reviewed and approved by The Human Research Ethics Committee at The Australian Catholic University
Background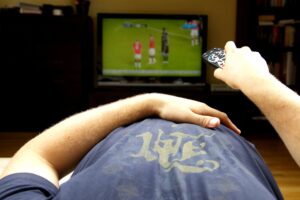 The consumption of excess energy, particularly fat, is largely responsible for the current epidemic of lifestyle-related diseases such as obesity, diabetes and sarcopenia (loss of muscle mass with increasing age).
Excess fat consumption can also affect mood and cognitive function. The progression of sarcopenia is increased by low levels of physical activity and in overweight or obese individuals through an increase in body fat and decrease in muscle mass.
However, performing resistance exercise in combination with the ingestion of high-quality protein sources (e.g.: steak, chicken, whey protein shake, etc.) has been shown to enhance muscle mass. This has important health implications for reducing the risk of developing sarcopenia, obesity or other debilitating health conditions such as diabetes.
Benefits to Participation
You will receive a comprehensive health screen including: DEXA (Dual Energy X-ray Absorptiometry) bone density scan to screen for osteoporosis, with body mass composition; a cognitive health assessment; a blood lipid profile and potential fitness test if selected. Consumer Value $300-$400
You will receive 11 days [total] of food at no personal cost.
Qualified health professionals will monitor your health.
You will be helping to advance medical research.
You will be compensated $1,000.00 for your time in the study. $1,250.00 if selected to perform exercise.
Your Rights
If you decide to participate in the study and later feel that you no longer wish to be part of it, you may withdraw at any time.
Your records relating to this study and any other information received will be kept strictly confidential.
Upon completion the results of the study will be shared with you.
Who Can Participate?
Males aged 30 to 45.
Live a sedentary lifestyle (little to no regular exercise)
Have a BMI of between 25 and 30kg/m2 (check your BMI here).
Are able to attend the Australian Catholic University on multiple occasions at the same time each visit.