Research Center: University of Alabama at Birmingham School of Medicine, with IRB approval from the University of Alabama at Birmingham
Location: This is a USA-wide virtual research survey
Lead Researcher: Stefan Kertesz, M.D.
IRB Committee: This study has been reviewed and approved by the University of Alabama Birmingham Institutional Review Board
About the Survey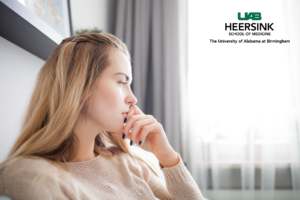 Losing a loved one to suicide can feel overwhelming, but you're not alone. Both suicide and untreated pain represent key challenges for Americans today. If you've lost someone to suicide after a reduction in pain medication, you have the opportunity to help us learn how to prevent these tragic losses from happening.
Pain is one of the strongest risk factors for suicide. A national team of researchers seeks to understand changes in pain care that often occur before people die by suicide. They wish to learn from survivors of those who died by suicide after a change in pain medication. Their findings will help show if survivors would be willing to work with them in future research on preventing these suicides.
Why Participate?
Participants will be contributing valuable information that may help prevent the loss of lives in the future.
Participants will help researchers how to identify warning signs of suicide that occur after changes in pain medication.
Participants will help show that research on this important problem can be done.
Participants can join this virtual research survey in the comfort of their own homes, through the web, or by telephone.
Participants will be helping to advance mental health research.
Your Rights
If you decide to participate in the survey and later feel that you no longer wish to be part of it, you can withdraw at any time.
Any information that you provide will be kept strictly confidential, except as required by law. If you provide information to say you may be at imminent risk of harming yourself or others, we will report it to a third party in the interest of protecting the rights and welfare of you or the persons at risk.
Who Can Participate?
Men and women aged 19 and above who have lost someone to suicide.
Must reside in the United States.
Must have lost a loved one who was residing in the United States.
Must be able to complete a 25-minute survey about suicides that have happened after a change in opioid pain medicine.
Key Study Details
The study team can explain the research study in its entirety but some study details are:
If any of the survey questions upset participants, they need not answer them.
If participants do not complete the survey in one sitting, the researchers will send a reminder with information on how to complete the survey at a later time.

This reminder will be by email or telephone, based on the preference participants indicate in the survey.
Your personal information will be kept confidential. Neither your name nor description will be used in any reports or publications about these studies.
About the Research Center:

University of Alabama at Birmingham School of Medicine
UAB is the heartbeat of Birmingham and an integral medical leader in the Southeast. The Birmingham campus is within walking distance of some of the best parks, entertainment, and dining in the region. Their regional campuses—in Huntsville, Montgomery, and Tuscaloosa—expand their academic reach and responsibilities in addition to educating physicians in rural and underserved areas of the state.
Please note:
The study team would like to point out that this survey will be conducted remotely. This means there will be no in-person study visits, allowing you to participate in the comfort of your own home and having no close interactions with any person outside of your household.