Research Center: Joslin Diabetes Center
Location: 1 Joslin Pl, Boston, MA 02215, USA
Lead Researcher: Osama Hamdy, MD, PhD
IRB: This study has been reviewed and approved by the Joslin's Committee on Human Studies (CHS)
About the Study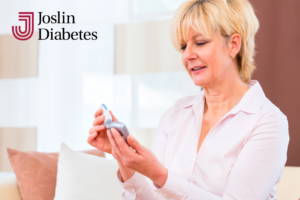 Approximately 1 in 10 Americans have Diabetes, with over 90% of people having Type 2 Diabetes. Unfortunately, current treatments available are not always effective in helping to manage symptoms of Diabetes.
Researchers at the Joslin Diabetes Center are exploring whether the use of the medication Semaglutide (Ozempic) can provide patients with Type 2 Diabetes (T2D) with better control over their blood glucose level, and aid in weight loss. Better diabetes management could lead to fewer complications and better quality of life. So if you have type 2 diabetes, consider signing up for this study!
Why Participate?
Participants will receive a new potential treatment for Type 2 Diabetes at no cost.
Participants will be compensated for participating in this study.
Participants may experience improvements in managing symptoms of Diabetes.
Participants will be contributing valuable information that may benefit those with Diabetes in the future.
Participants will be helping to advance medical research.
Your Rights
If you decide to participate in the study and later feel that you no longer wish to be part of it, you can withdraw at any time.
Any information that you provide will be kept strictly confidential, except as required by law.
Qualified health professionals will monitor your health as it relates to the study.
Who Can Participate?
Men and women aged 18 and older
Must have been diagnosed with Type 2 Diabetes for at least 6 months
Must be on any of the following combinations of medications to manage Type 2 Diabetes:

Metformin & once-daily insulin (up to 40 units per day)
Combination of Metformin, SGLT2 inhibitor (e.g., canagliflozin, dapagliflozin, empagliflozin) & once-daily insulin (up to 40 units per day)

Must be willing to maintain your current lifestyle (such as eating, exercise, or sleeping patterns) throughout the study period
Must not have a history of any of the following medical conditions:

Multiple endocrine neoplasia type 2
Medullary thyroid carcinomas
Acute or chronic pancreatitis
Chronic heart failure class IV
Severe renal impairment

Must not have had any of the following medical conditions within the last 6 months:

Myocardial infarction
Stroke
Angina pectoris
Transient ischemic attack

Must not be using CGM (continuous glucose monitoring) at the beginning of the study and willing to not use CGM for the duration of the study
Must be able to attend 10 study visits at the research site over approximately 11 months. You will also receive approximately 34 phone calls from the study team to discuss your participation in the study
More Study Details
The study team will explain the research in its entirety but some details are:
Participants will be required to take either semaglutide (Ozempic) and insulin glargine OR insulin glargine alone
Participation requires measuring blood glucose levels before breakfast every day (This is done by pricking the finger. You will be given a glucose meter to use during the study)
Participants will input glucose level into the e-Diary, which is a mobile phone that will be provided to you.
Participants will be asked to inject the study medication daily
About the Research Center:

Joslin Diabetes Center
Joslin Diabetes Center is a teaching and research affiliate of Harvard Medical School. It is a one-of-a-kind institution on the front lines of the world epidemic of diabetes — leading the battle to conquer diabetes in all of its forms through cutting-edge research and innovative approaches to clinical care and education.
Please note:
Due to the COVID-19 pandemic, the researchers would like to assure the participants that ensuring their and the study staff's safety is of utmost importance.
Location