About the Study
Research Center: University of Missouri | Departments of Psychiatry & Psychological Sciences
Location: 1416 Carrie Francke Dr, Columbia, MO 65203, United States (Some study activities will be conducted remotely)
Lead Researcher: Dr. Brett Froeliger
IRB Committee: This study has been reviewed and approved by the University of Missouri Institutional Review Board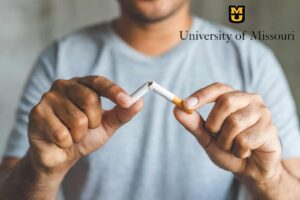 Ready to quit smoking? While quitting smoking can be challenging, guidance and support may help people stop smoking. Behavioral therapy approaches may help individuals become more mindful of their smoking habits and may help them better understand how their thoughts and feelings affect their actions. 
Researchers from the University of Missouri want to help adults who wish to quit smoking. This study will explore the effects of 2 different behavioral therapies. The results of this study may provide effective tools and treatments to help those with cigarette dependence.
Why Participate? 
Participants will be able to attend smoking cessation support visits with a licensed therapist at no cost.

Participants may find that this study could help in their journey to quit smoking.

Participants will be contributing valuable information that may benefit those who wish to quit smoking in the future.

Participants will be compensated up to $425 for participating in this study. Compensation will be provided for each visit completed, and a bonus for returning the equipment.

Participants will be helping to advance cigarette dependence research.
Your Rights
If you decide to participate in the study and later feel that you no longer wish to be part of it, you can withdraw at any time.

Any information that you provide will be kept strictly confidential, except as required by law.

Qualified health professionals will monitor your health as it relates to the study.
Who Can Participate?
Men and women aged 18 and above who are ready to quit smoking

Must be smoking for at least 2 years

Must smoke at least 8 cigarettes per day

Must

not

have any of the following:

Vision impairments

Claustrophobia

Pacemakers or other implanted devices

Neurological conditions or a history of a head injury that caused unconsciousness

History of psychosis

History of alcohol or substance dependence (other than nicotine) for the past 3 months

Must be able to attend 3 study visits at the research site and 8 study sessions conducted remotely over approximately 7-8 weeks
Key Study Details 
The study team can explain the research study in its entirety but some study details are:
Participants will be placed in either Mindfulness-Oriented Recovery Enhancement (MORE), or Cognitive Behavioral Therapy (CBT) sessions that will happen twice a week for 4 weeks.

MORE is a behavioral therapy that integrates mindfulness training to modify reward processes.

CBT is a therapy designed to help individuals understand how their thoughts and feelings influence their behaviors.

Participants will be asked to complete questionnaires and report their tobacco, alcohol and caffeine use.
Participants will be asked to record how much they are craving to smoke a cigarette, their mood, and how they are feeling on their mobile phones.

Participants will be asked to have MRI scans, drug tests, and breathalyzer tests to measure how much alcohol or tobacco they may have consumed. 
About the Research Center

University of Missouri | Departments of Psychiatry & Psychological Sciences
The mission of the Department of Psychological Sciences is to increase understanding of the mind, behavior, and mental health, and to produce, disseminate, and use science to improve the lives of the citizens of Missouri, the nation, and the world.
Please note:
Due to the current situation with the COVID-19 pandemic, the researchers would like to assure the participants that ensuring the safety of the participants as well as the study staff is of utmost importance.
Study Location