Research Center: New York Medical College in Hawthorne (NYMC)
Location: 19 Bradhurst Avenue, Suite 2700S, Hawthorne, NY 10532, United States
Lead Researcher: Cara Grimes, MD, MAS, FACOG
IRB: This study has been reviewed and approved by the WCG Institutional Review Board
About the Study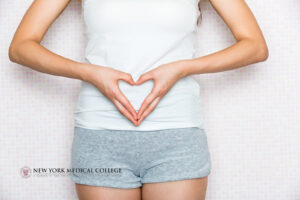 About 50% of women over age 50 have pelvic organ prolapse (POP) to some degree and 13% of all women undergo surgery for prolapse. Although it may be a common condition, the treatment options for women with POP don't work for everyone. Many women with POP use a pessary, a device that works by providing support to vaginal tissues. However, pessaries can be difficult to insert and remove on one's own, meaning that users must visit a doctor every 3-6 months for maintenance.
New York Medical College wants to explore the use of a more comfortable, and user-friendly pessary for women with POP. The study hopes to provide a device that is easier to use so that women may insert and remove it themselves, potentially giving users more independence in the healthcare system.
Why Participate?
Participants will be helping to advance medical research.
Participants will be provided a pessary that potentially enables easy, comfortable and autonomous use.
Participants will be part of a study that may help other women, and themselves to have a better experience in POP and have more independence in the healthcare system in the future.
Participants may be compensated up to $300 over the course of the study ($100 gift card for each extra visit, and then at the end of the study), and receive routine pessary care free of charge.
Your Rights
If you decide to participate in the study and later feel that you no longer wish to be part of it, you can withdraw at any time.
Any information that you provide will be kept strictly confidential, except as required by law.
Qualified health professionals will monitor your health as it relates to the study.
Who Can Participate?
Women aged 18 years old and above
Must have pelvic organ prolapse
Must have been using a Gellhorn or ring style pessary for more than 2 months
Must not be pregnant or planning to become pregnant in the next 6 months
Must not be currently receiving treatment for vaginal, rectal, or bladder tumors
Must not have had had pelvic floor surgery within the last 12 months
Must not have an inflammatory bowel disease
Must be able to attend 3-4 study visits at the research site over approximately 4 months.
More Study Details
The study team will explain the research in its entirety but some details are:
The study will run over the course of 4 months. It will involve 3 in-person visits to the research site, with an optional fourth visit which may be done via telehealth.
Participants will continue to wear their current pessary for one month.
After the first month, participants will have their current pessary exchanged for a study pessary, which they will use for the remainder of the study. Participants will also be asked to fill out questionnaires during visits.
Participation in this study would involve using the study pessary. The study team can further explain this.
About the Research Center:

New York Medical College
Founded in 1860, the New York Medical College is one of the finest in the Tri-State Area. It is known for its inclusive and humanistic approach to education and is focused on growing leadership in the public healthcare system and providing essential services to patients with specialized care needs.
Please note:
Due to the COVID-19 pandemic, the researchers would like to assure the participants that ensuring their and the study staff's safety is of utmost importance. Portions of this study will also be done through virtual means where possible.
Location