About the Study
Research Center: University of Oklahoma Health Sciences Center (OUHSC)
Location: 755 Research Parkway, Suite 150, Oklahoma City, OK 73104
Lead Researcher: Sydney Martinez, Ph.D., MPH
IRB Committee: This study has been reviewed and approved by the University of Oklahoma Health Sciences Center (OUHSC) Institutional Review Board (IRB#: 11582)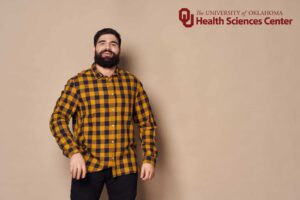 Smoking is the leading preventable cause of disease and death. Individuals with diabetes who continue to smoke are more at risk of adverse health complications. Finding ways to help those with diabetes successfully quit smoking could improve their health and wellbeing.
This research study seeks to compare a standard smoking cessation treatment to an approach that offers gift cards as proof of quitting for smokers with diabetes. The results of this study may help increase the understanding of the factors that make it hard to quit smoking, which may, eventually, lead to an effective smoking cessation treatment. The researchers also want to know what causes smokers with diabetes to quit or go back to smoking. 
Why Participate? 
Participants will have support in their efforts to quit smoking cigarettes. 

Participants will be compensated in gift cards for participating in this study. Compensation will only be provided to eligible participants upon completion of study visits.

Participants will be helping to advance smoking cessation-related research.
Your Rights
If you decide to participate in the study and later feel that you no longer wish to be part of it, you can withdraw at any time.

Any information that you provide will be kept strictly confidential, except as required by law.

Qualified health professionals will monitor your health as it relates to the study.
Who Can Participate?
Adults aged 18 to 75 years old who have type 2 diabetes and are current smokers

Must be willing to quit smoking or is currently seeking treatment for smoking cessation

Must be able to attend 6 study visits at the research site over approximately 5 weeks
Key Study Details 
Participation involves taking part in a smoking cessation program. Through the program, they can receive smoking cessation counseling and medications to help them quit.

Participants will be loaned a study smartphone and be asked to complete daily assessments. This study phone will need to be returned to the research team.

Participants will use the study phone and a breathalyzer to submit 2 daily breath sample readings to verify their smoking status.

Participants will be asked to complete questionnaires.

Participants must be willing to drive to the OKC metro area.
About the Research Center

University of Oklahoma Health Sciences Center
Every day, the University of Oklahoma Health Sciences Center educates more than four thousand students and residents to strengthen our state's healthcare workforce; discovers new treatments for disease; and provides Oklahomans a unique resource for highly skilled, compassionate care across all children's, women's and adult specialties. OUHSC is dedicated to improving the quality of life for those we serve — both today and for future generations. The University of Oklahoma is an equal opportunity institution. IRB 11582
Please note:
To prioritize the participants' and the study team's health, the sequence of study requirements may vary due to COVID-19  rules and guidelines set by authorities at the National, Local, or University level.  This may mean that the in-person study visits may become virtual (e.g. online video calls) visits. The study team can further explain this. 
Study Location