Research Centre: New Zealand Clinical Research
Location: This is a NEW ZEALAND WIDE STUDY with site locations in Auckland, Wellington, and Christchurch
Lead Researchers: Dr. Paul Hamilton and Dr. Chris Wynne
HDEC: This study has been reviewed and approved by the Central Health and Disability Ethics Committee 
About the Study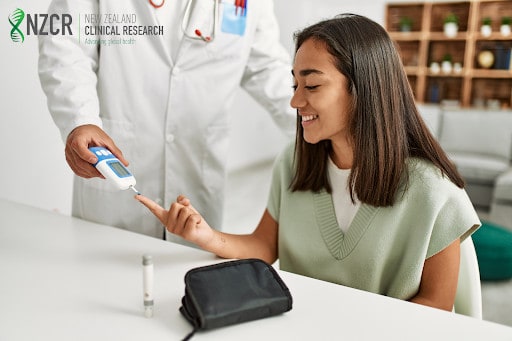 Glucagon, a hormone that increases blood sugar production in the liver and affects how the liver processes fats, is a key player in the management of type 2 diabetes. Usually, glucagon levels become low after meals. However, in type 2 diabetes, glucagon levels remain high. This causes high sugar levels and abnormal blood fats. 
New Zealand Clinical Research is exploring a potential treatment for type 2 diabetes. Usually, Glucagon connects with a receiver on the cell's surface to tell the liver what to do. This treatment works by blocking the glucagon receiver to the liver. Through this potential treatment, a decrease in sugar levels may occur and in turn an improvement in blood fats.
This research study is open to the whole of New Zealand with 2 sites for in-person visits. The sites are located in Auckland and Christchurch. 
Why Participate? 
Some participants may experience improvements in blood sugar and blood lipid (fat) levels. 

Participants will be contributing valuable information that may benefit those with type 2 diabetes in the future.

Participants will be compensated up to $6,000 NZD for participating in this study. Compensation will only be provided to eligible participants who complete the study.

Participants will be helping to advance type 2 diabetes and medical research.
Your Rights
If you decide to participate in the study and later feel that you no longer wish to be part of it, you can withdraw at any time.

Any information that you provide will be kept strictly confidential, except as required by law.

Qualified health professionals will monitor your health as it relates to the study.
Who Can Participate?
Men and women aged 18-70 years old who are diagnosed with type 2 diabetes

Must be diagnosed with type 2 diabetes at least 6 months ago

Must be managing type 2 diabetes through either Metformin or lifestyle interventions (i.e., diet and exercise). If taking Metformin, there must be no changes to the dosage in the last 3 months.

Must have a BMI of 20-42 kg/m2. This means being between the normal weight for a person's height to being obese class 2. 

Must

not

have type 1 diabetes, maturity-onset diabetes of the young, any rare form of diabetes, Cushing's syndrome, Acromegaly, or untreated hyperthyroidism 

Must be able to attend 11 study visits (twice daily, which includes a morning and an evening visit) at the research site over approximately 4 weeks. During this time, you will also be asked to do 2 overnight stays at the research site. This means you cannot leave the site until the visit is over.

However, there is some flexibility in the dates so the staff will do their best to accommodate you. 
A requirement of this study would be to travel to any of the 2 research sites listed below to complete the in-person and overnight visits. If you are willing to travel, the research team will fly you to one of the two sites and all expenses related to the study will be covered by the research team.
There are three locations for this study:
Ground floor, 3 Ferncroft St., Grafton, Auckland 1010, New Zealand

Level 4, 264 Antigua St., Christchurch 8011, New Zealand

Level 4 / 108 The Terrace, Wellington Central, Wellington 6011
More Study Details 
The study team will explain the research in its entirety but some details are:
Participants will take a daily dose of the study treatment or a matching placebo. A placebo looks like the study treatment but contains no active ingredients.

The potential treatment will be given as capsules. 

During the study, blood samples will be collected as well as urine samples.
About the Research Centre:

New Zealand Clinical Research
New Zealand Clinical Research was formed in 2020 by the merger of Auckland Clinical Studies (ACS) and Christchurch Clinical Studies Trust (CCST). New Zealand Clinical Research is NZ's leading early phase clinical research provider. NZCR provides state-of-the-art world-class research units and the expertise to conduct complex early phase clinical research in healthy participant and patient populations over a wide range of therapeutic areas. NZCR partners with global pharmaceutical and biotechnology companies to deliver excellence in clinical research.
Please note:
Due to the COVID-19 pandemic, the researchers would like to assure the participants that ensuring their and the study staff's safety is of utmost importance.