Please note: This trial has finished recruiting and is not accepting new participants.
Research Center: Medical Advancement Centers of Arizona (MACOA)
Location: 8618 N. 35th Avenue, Suite 1 Phoenix
Lead Researchers: Jeffrey Hoodin, MD
IRB: This study ha been reviewed and approved by the Advarra Institutional Review Board
About the Study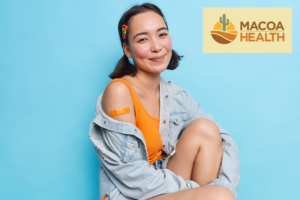 Meningitis and Meningococcal diseases are serious and can sometimes become life-threatening conditions that should be treated immediately if contracted.
When it comes to the prevention of contracting these diseases there are currently two different FDA-approved vaccines available. These are the Menveo and Bexsero vaccines.
Medical Advancement Centers of Arizona (MACOA) is conducting research for a new preventative opportunity for Meningitis/Meningococcal Disease that may be of benefit to your child. The best part is that your child's care is completely free for you AND you will be compensated up to $550 for your time and travel. There will be a $50 fuel stipend offered for each of the completed visits (1-5), so an additional $250 can be earned during this trial!
Researchers at (MACOA) want to explore how well these two vaccines work together when combined to potentially prevent infections of either Meningitis or Meningococcal Disease.
Why Participate? 
Participants will receive vaccinations at no cost.
Participants will be compensated up to $550 for their time, and up to an additional $250 for travel.
Participants will be contributing valuable information towards the development of a potential vaccine for Meningitis and Meningococcal diseases in the future.
Participants will be helping to advance medical research.
Your Rights
If you decide to participate in the study and later feel that you no longer wish to be part of it, you can withdraw at any time.
Any information that you provide will be kept strictly confidential, except as required by law.
Qualified health professionals will monitor your health as it relates to the study.
Who Can Participate?
Adolescents aged 16-18 years old. Those under the legal age should have parental or legal guardian consent to participate in this study.
Must have received a previous meningococcal vaccination once at least four years prior
Must not have hypersensitivity to vaccines, medical products, or equipment
Must not have a current or previous Meningococcal disease
Must not have a history of neuroinflammatory, autoimmune conditions, uncontrolled neurological disorders, or seizures
Must not have received blood in the last 6 months
Must not have had received 2 previous meningococcal vaccinations
Must be able to attend 4 study visits over approximately 3 months
More Study Details 
The study team will explain the research in its entirety but some details are:
Participation in the study will involve getting a total of four doses of vaccines. This will include receiving 2 doses of 2 separate vaccines
Two vaccines are given at the first screening, (right and left arms). One vaccine is administered during the third visit, and the final vaccine is administered during the fourth visit.
Participation in this study will involve blood draws.
For participants who are female, urine samples for pregnancy testing will be collected.
About the Research Center:
Medical Advancement Centers of Arizona
MACOA is a clinical research center that specializes in the startup, execution, and management of clinical trials in the USA
Please note:
Due to the COVID-19 pandemic, the researchers would like to assure the participants that ensuring their and the study staff' safety is of utmost importance.
Location