About the Study
Research Center: The Johns Hopkins Hospital
Location: 1800 Orleans St, Baltimore, MD 21287, United States (This study is virtual with the opportunity to come in for 3 optional lab appointments)
Lead Researcher: Catherine Marshall, MD MPH
IRB Committee: This study has been reviewed and approved by the Johns Hopkins Medicine Institutional Review Board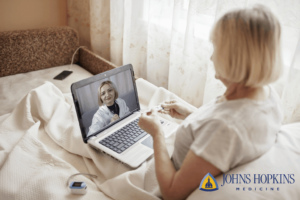 Like other emerging disease outbreaks, the COVID-19 pandemic is creating immense disturbances in every sector needed for mankind to thrive. Researchers are hard at work trying to create potential interventions that may help treat COVID-19.
This research study is being done to test the effectiveness of a potential study medication to treat COVID-19 and ultimately reduce the need for hospitalizations. Specifically, researchers want to know if this potential medication can prevent COVID-19 symptoms and how this medication works in the body of people already infected with the virus. This research study may be able to pave the way for new potential treatments for COVID-19.
Why Participate? 
Participants may experience improvements to COVID-19 symptoms. 

Participants may get this potential treatment at no cost. 

Participants will be helping to advance medical research.
Your Rights
If you decide to participate in the study and later feel that you no longer wish to be part of it, you can withdraw at any time.

Any information that you provide will be kept strictly confidential, except as required by law.

Qualified health professionals will monitor your health as it relates to the study.
Who Can Participate?
Adults aged 60 years or older who have tested positive for COVID-19 within the last 5 days

Must be currently experiencing any of the following COVID-19 symptoms: 

Fever 

Chills

Cough

Shortness of breath or difficulty breathing

Fatigue

Muscle or body aches

Headache

New loss of taste or smell

Sore throat

Congestion or runny nose

Nausea or vomiting

Diarrhea
Must be willing to attend the remote study appointments and 4 phone appointments for over approximately 2 months. There will be an opportunity to come in for 3 optional lab appointments.
Key Study Details
Participation in this study may include but is not limited to:
Taking the investigational treatment for 7 days at home. The study team can further explain how the process for this works.

Answering assessment questions about current COVID-19 symptoms and other treatments received.

Optional: Getting blood work, saliva samples, and nasal swabs. 
About the Research Center

The Johns Hopkins Hospital
The Johns Hopkins Hospital is a world renowned leader in patient care, serving the greater Baltimore community and patients from all across the globe. Their friendly and knowledgeable staff teams provide support throughout their many specialty departments and centers, from primary visits to emergency care.
Please note:
Due to the current situation with the COVID-19 pandemic, the researchers would like to assure the participants that ensuring the safety of the participants as well as the study staff is of utmost importance. This is why the majority of this research study will be done through virtual means.
Study Location