Research Centre: Skin Health Institute
Location: Level 1, 80 Drummond Street, Carlton, VIC, 3053
Lead Researcher: Associate Professor Peter Foley, BMedSc, MBBS, MD, FACD
HREC: This study has been reviewed and approved by the Bellberry Ethics Committee
About the Study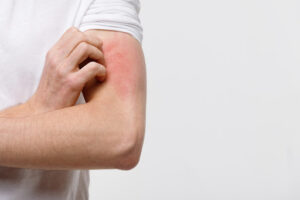 Atopic Dermatitis is the most common form of eczema. Eczema is used to describe the long-lasting cycle of itchy, dry, inflamed skin, which heals and flares up because of specific triggers. Its symptoms can occur anywhere on the body and affect people of all ages. Eczema symptoms can be debilitating and have an enormous impact on mental health. Moisturising the skin regularly and using medicated creams, ointments, and injectable medicines can help to treat eczema, but these may not work for everyone. 
This is why researchers at the Skin Health Institute are working on a potential new treatment for eczema. The treatment will be taken orally in the form of a tablet and is available to adults with moderate to severe eczema. The study hopes to develop an additional treatment that may help ease the symptoms of eczema.
Why Participate?
Participants may receive a potential new treatment for atopic dermatitis (eczema) at no cost.

There are no costs related to participating in this clinical trial, and reasonable travel costs will be reimbursed

Participants may experience improvements in their eczema symptoms and overall quality of life. 

Participants will be contributing valuable information that may benefit those with eczema in the future.

Participants will be helping to advance medical research.
Your Rights
If you decide to participate in the study and later feel that you no longer wish to be part of it, you can withdraw at any time.

Any information that you provide will be kept strictly confidential, except as required by law.

Qualified health professionals will monitor your health as it relates to the study.
Who Can Participate?
Men and women aged 18 and older with chronic atopic dermatitis (eczema)

Must have been diagnosed with atopic dermatitis (eczema) for at least one year

Must have moderate to severe eczema

Must have experienced a poor response (not adequate relief) to topical medications in the last 6 months or are unable to use topical medications

Must not have  received 3 or more systemic atopic dermatitis (eczema) treatments

Must be able to attend 13 study visits at the research site over approximately 22 weeks
More Study Details
The study team will explain the research in its entirety however some details are described below: 
Applying a bland emollient (moisturiser) to affected areas of the skin twice daily for one week before the start of the study

Completing an electronic diary (eDiary) throughout the study

Answering health questionnaires and having your urine and blood samples taken

Eligible individuals who may not be eligible for government-subsidised eczema treatments can also receive the study medication
About the Research Centre

Skin Health Institute
The Skin Health Institute in Victoria is a not-for-profit organisation that is focused on providing specialised research, treatment, and education on skin diseases, skin cancers and melanoma. The Skin Health Institute delivers care to over 30,000 patients each year and is passionate about improving skin health for Australians. Their research and educational programs have had a global impact, and they are globally recognised for their contributions. In addition to providing care to their own patients, the Skin Health Institute is responsible for numerous educational programs geared towards dermatologists, registrars, and healthcare workers. These programs are designed to upskill these professionals and public health education programs to improve how skin health is approached on a broader scale. 
Location